Thinking about installing a septic tank yourself? Well, you're not alone. Many homeowners have wondered if they have what it takes to tackle this seemingly daunting task. In this article, we'll explore the pros and cons of DIY septic tank installation, including the essential considerations and potential difficulties you may encounter along the way. So, if you're eager to find out if you have the skills to save some cash and get your hands dirty, read on!
This image is property of theoriginalplumber.com.
Benefits of Installing a Septic Tank Yourself
Cost Savings
One of the major benefits of installing a septic tank yourself is the cost savings it can provide. Hiring professionals to install a septic tank can be quite expensive, as it involves labor costs and fees for their expertise. By opting to install it yourself, you can save a significant amount of money that can be allocated to other areas of your project or household expenses.
Greater Control
Another advantage of a DIY septic tank installation is the greater control you have over the process. When you hire professionals, you are often limited to their schedule and decision-making. However, by taking on the installation yourself, you have the freedom to plan and execute the project according to your own preferences and timeline. This level of control can be empowering and satisfying.
Sense of Achievement
While installing a septic tank may seem like a daunting task, completing it yourself can bring a great sense of accomplishment. Being able to see the result of your hard work and knowing that you successfully tackled a challenging project can boost your confidence and provide a feeling of pride. It can also serve as a constant reminder of your resourcefulness and problem-solving skills.
Factors to Consider Before DIY Install
Local Regulations
Before embarking on a DIY septic tank installation, it is crucial to familiarize yourself with the local regulations regarding septic systems. Different areas have specific rules and requirements that must be followed for the installation and operation of septic tanks. Failure to comply with these regulations can result in penalties, fines, or even having to redo the installation.
Permit Requirements
In addition to understanding the local regulations, you need to determine the permit requirements for installing a septic tank. Obtaining the necessary permits ensures that your installation meets the legal requirements and is safe for both your property and the environment. Researching and obtaining the permits may take time, but it is an essential step to ensure a smooth and compliant installation process.
Soil Conditions
The soil conditions on your property play a critical role in the success of your septic tank installation. Conducting a soil analysis will help identify the soil type, its drainage capabilities, and its ability to support a septic system. Some soil types may not be suitable for septic tank installation, and it is important to assess this factor before proceeding. Consulting with a soil engineer or septic professional can provide valuable insights into the suitability of your soil.
Available Space
The amount of available space on your property is another factor to consider when installing a septic tank yourself. A septic tank requires sufficient space for its installation, including setback requirements from buildings, property lines, and water sources. Measure the available space carefully and ensure it meets the minimum requirements outlined by local regulations. Insufficient space can lead to complications and potential failures in the septic system.
Skill and Experience Required
Installing a septic tank is a complex task that requires a certain level of skill and experience. Assess your own abilities honestly and consider if you have the necessary expertise to complete the installation safely and effectively. If you lack the required skills, it may be wise to hire professionals who have the expertise to ensure a proper installation.
This image is property of qph.cf2.quoracdn.net.
Necessary Tools and Equipment
Excavation Equipment
Excavation equipment is necessary for digging the hole where the septic tank will be installed. Depending on the size of your project, you may need a small excavator, backhoe, or other digging tools. Renting or purchasing these tools will be necessary unless you already own them.
Concrete Mixer or Truck
To build the septic tank, you will need a concrete mixer or truck to mix and pour the concrete. These machines ensure that the concrete is properly mixed and in the correct consistency for building a sturdy and durable septic tank. Renting or purchasing a concrete mixer or truck will be required for this step.
Plumbing Tools
Installation of the inlet and outlet pipes will require various plumbing tools, such as wrenches, pipe cutters, and sealants. These tools are essential for ensuring proper connections and leak-free plumbing. If you don't already own these tools, it may be necessary to purchase or borrow them for the installation.
Leveling Tools
Achieving a level base and proper alignment of the septic tank is crucial for its effective functioning. Leveling tools, such as a level, measuring tape, and string, will be needed to ensure the tank is properly positioned. If you don't already have these tools, consider purchasing or borrowing them to ensure accurate leveling.
Safety Gear
Installing a septic tank involves working with heavy machinery, tools, and potentially hazardous materials. It is essential to prioritize safety during the installation process. Safety gear, including gloves, goggles, sturdy work boots, and a hard hat, should be worn to protect yourself from any potential accidents or injuries.
Step-by-Step Guide to DIY Septic Tank Installation
Preparing the Site
Before beginning the installation process, it is essential to prepare the site properly. Clear the area of any obstacles, such as trees, rocks, or debris, that may hinder the installation process. Ensure access to the site is available for the machinery and equipment you will be using. Additionally, mark the area where the septic tank and drainfield will be located, ensuring compliance with setback requirements.
Excavating and Leveling
Using the excavation equipment, dig a hole at the marked location for the septic tank. The size of the hole will depend on the specific dimensions of the tank you are installing. Pay careful attention to the depth and levelness of the hole to ensure proper positioning of the tank. Use the leveling tools to achieve accuracy and precision in this step.
Building the Tank Forms
Once the excavation is complete and the hole is properly leveled, build the forms for the septic tank. The forms will act as a mold to hold the concrete during the pouring process. Construct the forms according to the specific dimensions and shape of the tank you are installing. Ensure the forms are sturdy and secure to prevent any shifting when the concrete is poured.
Mixing and Pouring Concrete
Using the concrete mixer or truck, mix the concrete according to the manufacturer's instructions. Once properly mixed, pour the concrete into the tank forms, ensuring even distribution and complete coverage. Smooth the surface of the concrete using a trowel and allow it to cure as per the recommended time frame provided by the manufacturer.
Installing Inlet and Outlet Pipes
After the concrete has cured, install the inlet and outlet pipes in the tank. Connect the pipes securely, using appropriate plumbing tools such as wrenches and sealants. Ensure proper alignment and secure connections to prevent any leaks or plumbing issues in the future.
Backfilling and Compacting
With the tank forms removed and the inlet and outlet pipes securely installed, backfill the area around the tank with the excavated soil. Use the excavation equipment to carefully backfill and compact the soil in layers, ensuring stability and avoiding any potential settling. Compact the soil thoroughly to prevent future issues with uneven ground and potential damage to the tank.
Connecting to the House Plumbing
The final step in the installation process is connecting the septic tank to the house plumbing system. This involves properly aligning and connecting the pipes from the house to the inlet pipe of the septic tank. Secure the connections using appropriate plumbing tools and sealants to prevent any leakages. Run water through the system to check for any possible issues or leaks and address them accordingly.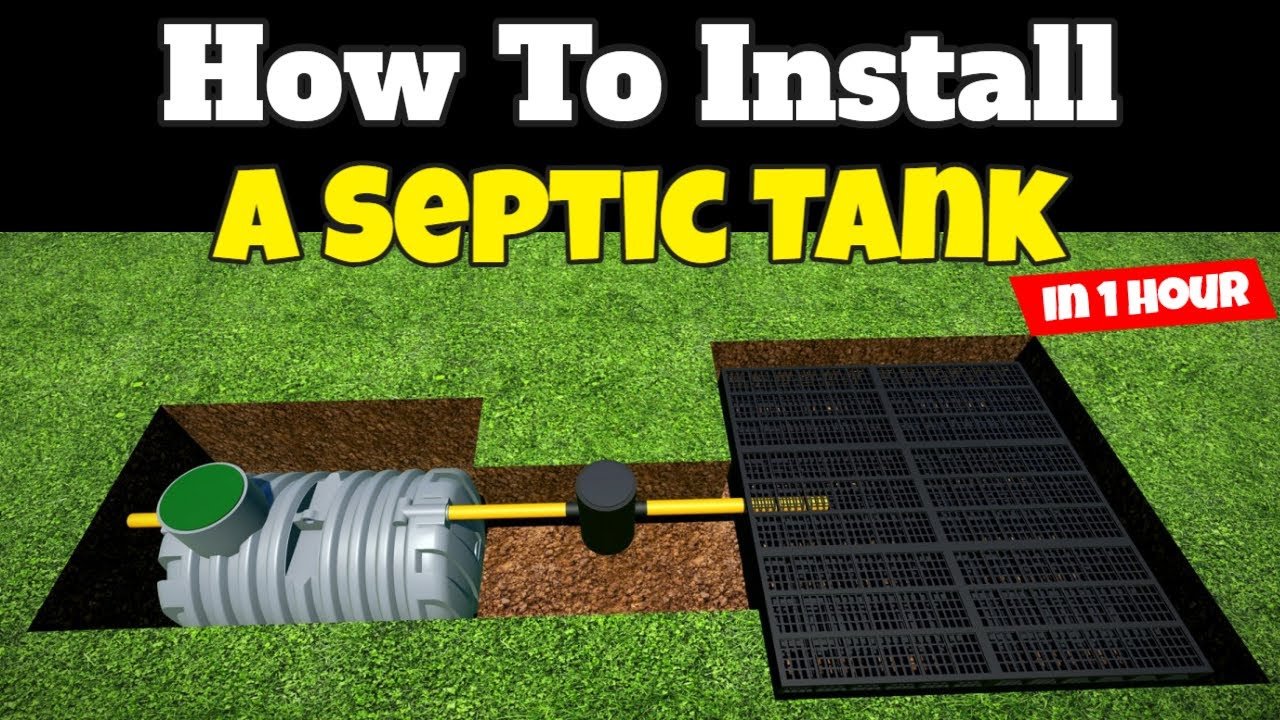 This image is property of i.ytimg.com.
Common Challenges and Troubleshooting
Unforeseen Obstacles
During the DIY septic tank installation, unforeseen obstacles may arise, such as encountering rocks, tree roots, or high-water tables. These challenges can make the excavation or installation process more difficult. It is important to be prepared for these obstacles and have contingency plans in place. Assess the situation and, if necessary, seek professional advice or assistance to overcome these challenges.
Leakages or Misalignment
Improper connections or misalignments in the septic tank system can result in leakages, which can be hazardous to the environment and potentially damage your property. If you notice any leakages or suspect misalignment, it is important to address them promptly. Carefully inspect the connections and pipes, making any necessary adjustments or repairs. If the issue persists, it may be advisable to consult with a professional to ensure proper resolution.
Excessive Water Table
An excessive water table can pose challenges during the installation and functioning of a septic tank system. If the water table is too high, it may cause drainage issues and affect the efficiency of the system. If you encounter a high water table during installation, consult with a professional who can provide guidance on potential solutions or modifications to ensure proper functioning.
Issues with Drainfield
The drainfield is an integral part of your septic system's functionality. If you notice any signs of pooling water or foul odors in the drainfield area, it may indicate underlying issues with the system. Proper maintenance, regular inspections, and addressing any issues promptly can help prevent further damage and ensure the longevity of your DIY installed septic tank.
Permitting and Inspection Process
Researching Local Regulations
Before initiating the DIY septic tank installation, thoroughly research the local regulations specific to your area. It is important to understand the requirements and restrictions related to septic system installations. This research will give you a clear understanding of the necessary permits, setbacks, soil requirements, and other regulations that must be followed.
Obtaining Permits
Once you have familiarized yourself with the local regulations, it is time to apply for the necessary permits. Contact the appropriate local authorities responsible for issuing permits for septic tank installations. Ensure that you provide all the required documentation, including site plans, soil analysis reports, and any other information requested. Pay any applicable fees and patiently await the issuance of the permits.
Scheduling Inspections
As part of the permitting process, inspections will be required at specific stages of your DIY septic tank installation. Coordinate with the inspection department to schedule the inspections at appropriate times, such as before pouring concrete, after backfilling, and before connecting to the house plumbing. Be prepared to provide access to the site and any requested documentation during the inspections.
Addressing Feedback or Deficiencies
During the inspections, it is possible that feedback or deficiencies may be identified by the inspector. This feedback may require adjustments or additional work to bring your installation into compliance with the regulations. Take the inspector's suggestions seriously and make the necessary improvements as outlined. Correct any deficiencies promptly to avoid delays or potential penalties.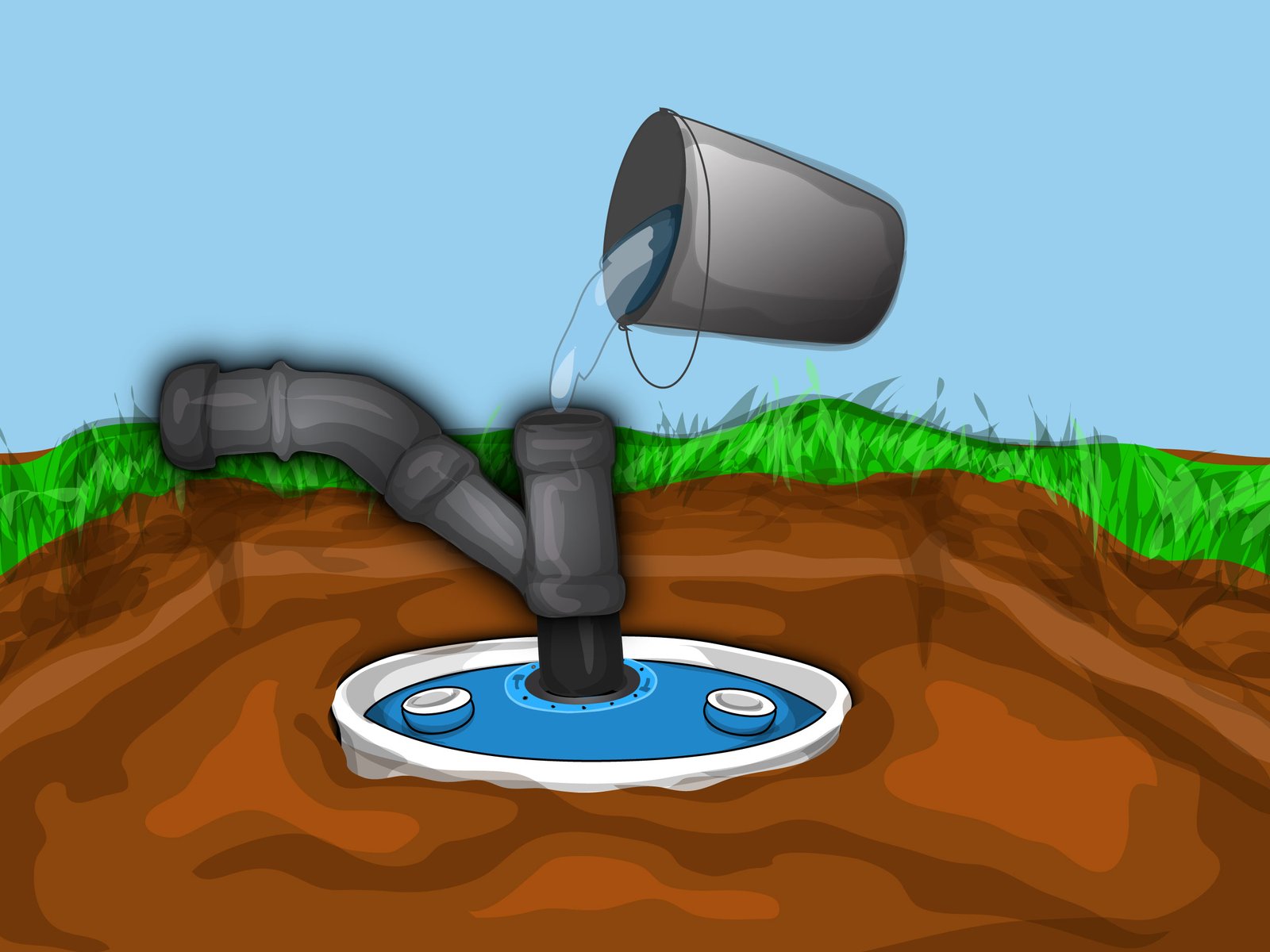 This image is property of www.wikihow.com.
When to Hire Professionals
Complex Site or Soil Conditions
If your property has complex site or soil conditions, it may be advisable to hire professionals for the septic tank installation. Certain factors, such as steep slopes, rocky terrain, high water tables, or poor soil quality, can significantly impact the installation process and the functionality of the septic system. Professionals with expertise in such conditions can ensure a successful installation.
Limited Time or Resources
Installing a septic tank requires a significant amount of time and resources. If you have limited availability due to work commitments, family responsibilities, or other obligations, it may not be feasible for you to complete the installation yourself. Hiring professionals can alleviate the stress and ensure that the installation is completed efficiently within a reasonable time frame.
Lack of Expertise
Septic tank installation is a complex process that requires knowledge and expertise in various areas, such as excavation, plumbing, and concrete work. If you lack experience or knowledge in these areas, it is recommended to hire professionals who specialize in septic system installations. Their expertise and experience can help prevent costly mistakes and ensure a properly functioning septic system.
Legal Requirements
Some jurisdictions have specific regulations that require professional installation of septic tanks. It is essential to research and understand the legal requirements in your area regarding DIY installations. If professional installation is mandated by law, it is imperative to hire qualified professionals to avoid legal implications and potential penalties.
Cost Analysis of DIY vs Professional Installation
Material and Equipment Costs
When comparing the costs of a DIY installation versus a professional installation, it is important to consider the expenses associated with materials and equipment. Hiring professionals often includes the cost of materials and equipment in their fees. However, if you choose to install the septic tank yourself, you will need to purchase or rent the necessary materials and equipment, which will incur additional costs.
Labor and Time Commitment
Professional installation usually includes the labor cost within their fees, which can be a significant portion of the overall expense. By choosing to install the septic tank yourself, you eliminate the labor cost but must invest your own time and effort. Consider the value of your time and whether you have the necessary availability to commit to the installation process before making a decision.
Long-term Maintenance
Both DIY and professional installations require ongoing maintenance to ensure the proper functioning of the septic system. However, DIY installations may require more frequent monitoring and maintenance due to potential errors or deficiencies. Factor in the long-term maintenance costs and efforts when evaluating the cost analysis between the two installation methods.
Repair and Replacement Expenses
In the event of system failure or the need for repairs or replacements, costs can quickly accumulate. DIY installations may carry a higher risk of potential issues, which could result in more frequent repairs or even the need for a complete system replacement. Professionals, on the other hand, may provide warranties or guarantees for their work, protecting you from certain repair expenses in the immediate future.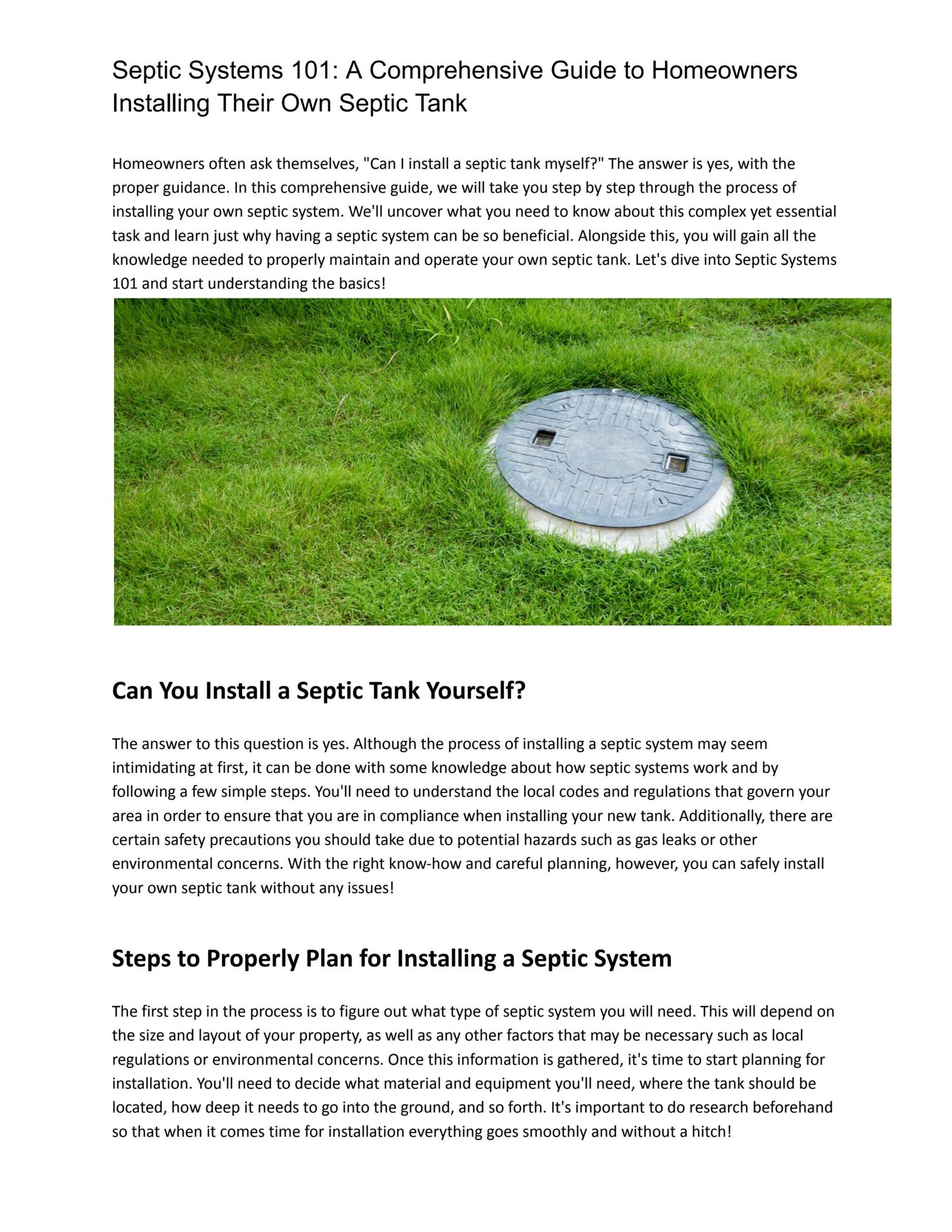 This image is property of image.isu.pub.
Maintenance and Care for DIY Installed Septic Tank
Regular Pumping and Inspections
To maintain the proper functioning of your DIY installed septic tank, regular pumping and inspections are necessary. Pumping should be done approximately every three to five years, depending on usage and tank size. Regular inspections allow you to identify any potential issues or maintenance needs and address them promptly to prevent further damage to the system.
Proper Waste Disposal
Proper waste disposal is crucial for the health and longevity of your septic tank system. Avoid flushing non-biodegradable items, such as wipes, diapers, or paper towels, down the toilet, as these can accumulate and clog the system. Dispose of household chemicals and grease properly, as they can disrupt the natural balance of the septic system and cause damage.
Avoiding Non-biodegradable Items
To ensure optimal functioning of your DIY installed septic tank, it is important to avoid introducing non-biodegradable items into the system. These items can accumulate and obstruct the flow, leading to potential clogs or damage. Educate yourself and your household on proper waste disposal practices to minimize the risk of issues and maintain the longevity of your septic system.
Maintaining Drainfield Health
The drainfield is a critical part of your septic system's functionality. To maintain its health, avoid parking or placing heavy objects over the drainfield, as this can compact the soil and impede proper drainage. Ensure vegetation growth is controlled in the drainfield area to prevent roots from infiltrating and potentially damaging the system. Regular inspections and monitoring of the drainfield can help prevent any potential issues.
Conclusion
Installing a septic tank yourself can offer several benefits, including cost savings, greater control, and a sense of achievement. However, it is important to consider factors such as local regulations, permit requirements, soil conditions, available space, and the required skill and experience. Necessary tools and equipment, as well as a step-by-step guide, should be followed diligently. Common challenges and troubleshooting, as well as the permitting and inspection process, must be addressed with care. It is crucial to recognize when hiring professionals may be necessary, based on the complexity of the site or soil conditions, limited time or resources, lack of expertise, or legal requirements. Cost analysis must also be considered, including material and equipment costs, labor and time commitment, long-term maintenance, and repair and replacement expenses. Maintenance and care for a DIY installed septic tank involve regular pumping and inspections, proper waste disposal, avoiding non-biodegradable items, and maintaining drainfield health. By following these guidelines and taking necessary precautions, you can successfully install and maintain a septic tank yourself, ensuring functionality and longevity for your property's wastewater management system.