Are you wondering whether it's safe to use bleach in your septic system? Many homeowners question whether the powerful cleaning agent could harm their septic tanks and disrupt the delicate balance of the system. In this article, we will explore the potential effects of using bleach in your septic system and offer some alternative solutions to keep your system healthy and efficient. So, let's find out if bleach is a friend or foe to your septic system!
This image is property of www.easyrooterplumbing.com.
Health and Performance Concerns
Using bleach in your septic system can have several implications for your health and the overall performance of the system. It is important to understand the potential chemical reactions that occur in the septic system, the impact on bacteria balance, and the toxicity to humans and pets.
Chemical Reactions in the Septic System
The chemicals present in bleach can disrupt the natural chemical balance within the septic system. When bleach is flushed down the drains, it reacts with the wastewater and can alter the pH levels, leading to the killing of beneficial bacteria.
Impact on Bacteria Balance
Septic systems rely on a delicate balance of bacteria to break down solid waste and maintain the overall health of the system. The use of bleach can destroy these beneficial bacteria, which are essential for the proper functioning of the septic system. This can result in the accumulation of solid waste and the potential for system failure.
Toxicity to Humans and Pets
Bleach contains harmful chemicals such as chlorine, which can be toxic to both humans and pets. When bleach is used excessively or in high concentrations, it can cause skin and eye irritation, respiratory issues, and even poisoning if ingested. Pets, in particular, are more susceptible to the toxic effects of bleach, and even small amounts can be harmful to them.
Alternatives to Bleach
If you are looking for alternatives to bleach that are safe for your septic system and the environment, consider the following options:
Vinegar
Vinegar is a natural cleaning agent that can effectively disinfect surfaces. It is non-toxic, biodegradable, and safe for use in septic systems. Vinegar can be used to remove stains, eliminate odors, and sanitize various surfaces in your home.
Hydrogen Peroxide
Hydrogen peroxide is another eco-friendly alternative to bleach. It has strong disinfecting properties and can be used to clean and sanitize surfaces effectively. Hydrogen peroxide breaks down into water and oxygen, making it safe for septic systems and the environment.
Baking Soda
Baking soda is a versatile and affordable cleaning agent that can be used as a substitute for bleach. It is non-toxic, gentle on skin, and safe for septic systems. Baking soda can be used to remove stains, deodorize surfaces, and unclog drains.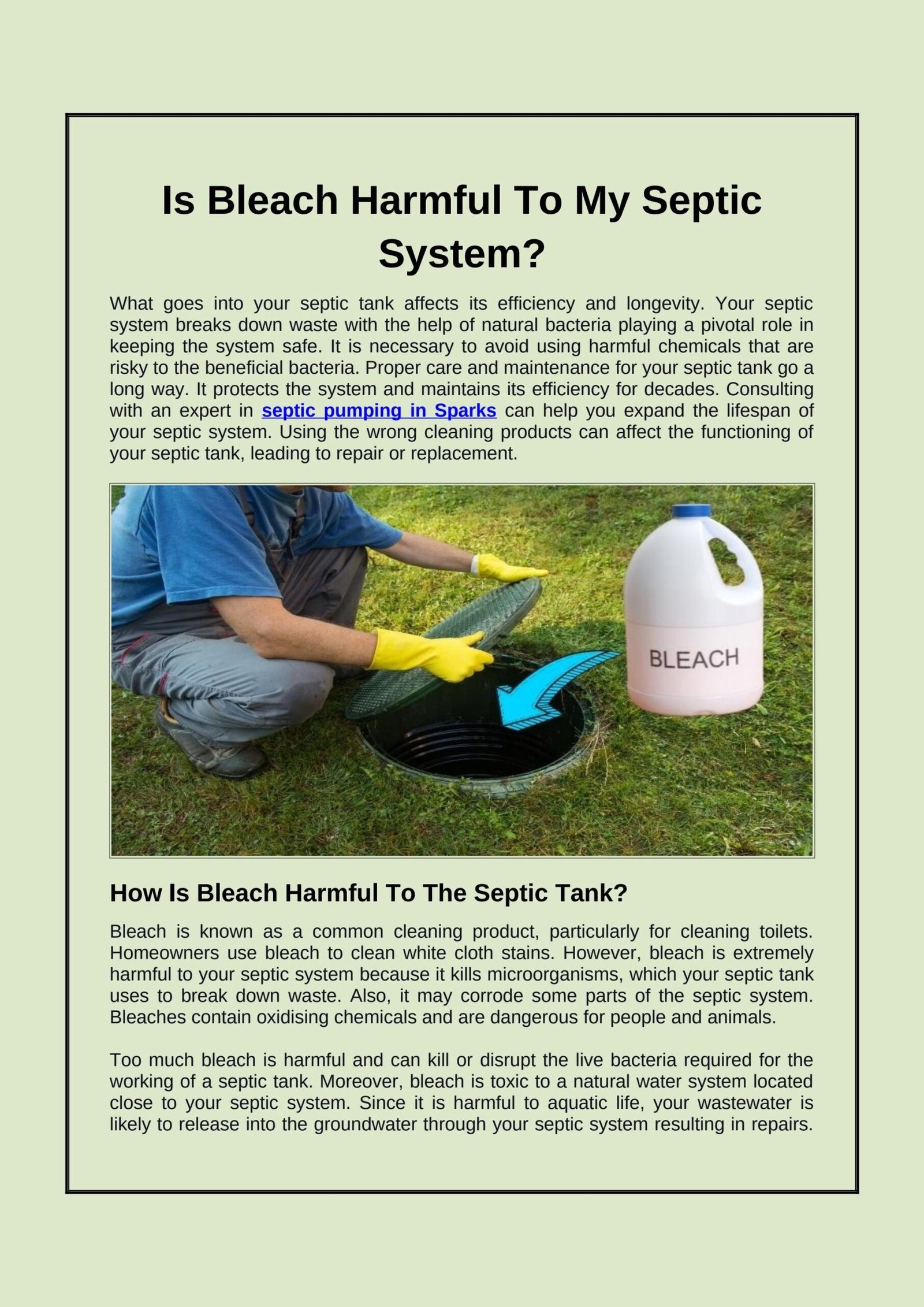 This image is property of image.isu.pub.
Septic System Maintenance Tips
Proper maintenance is crucial for the longevity and optimal performance of your septic system. Here are some essential tips to keep in mind:
Avoiding Excessive Water Usage
Excessive water usage can overload your septic system and hinder its ability to properly treat the wastewater. Be mindful of your water consumption and avoid activities such as leaving taps running, taking long showers, or running multiple appliances simultaneously.
Regular Pumping
Regular pumping of the septic tank is necessary to remove accumulated solids and prevent system failure. It is recommended to have your septic system pumped every 3-5 years, depending on the size of your household and usage.
Proper Waste Disposal
Be cautious about what goes down your drains and toilets. Avoid flushing non-biodegradable items such as wipes, paper towels, feminine hygiene products, or any other materials that can clog the system. Use a garbage disposal sparingly and dispose of grease and oil in proper containers instead of pouring them down the drains.
Eco-Friendly Cleaning Products
Using eco-friendly cleaning products is not only beneficial for the environment but also safe for your septic system. Consider the following alternatives to bleach:
Bio-Enzymatic Cleaners
Bio-enzymatic cleaners contain naturally occurring bacteria and enzymes that break down organic matter and eliminate odors. These cleaners are safe for septic systems and can be used to clean various surfaces, including carpets, upholstery, and toilets.
Borax
Borax is a natural mineral often used as a laundry booster and cleaning agent. It is safe for septic systems and can be used to remove stains, deodorize fabrics, and clean surfaces. Borax is an effective alternative to bleach and can be found in most grocery stores.
Citric Acid
Citric acid is a natural disinfectant that can be used to clean and sanitize surfaces. It is found in citrus fruits and is an excellent alternative to bleach for removing stains and eliminating odors. Citric acid is safe for septic systems and can be used in various cleaning applications.
This image is property of advancedsepticservicesfl.com.
Bleach vs. Chlorine-Free Bleach
Understanding the difference between bleach and chlorine-free bleach is essential when it comes to choosing cleaning products for your septic system.
Understanding the Difference
Bleach, also known as chlorine bleach, contains sodium hypochlorite as its active ingredient. It is a powerful disinfectant and whitening agent but can be harmful to the environment and septic systems. Chlorine-free bleach, on the other hand, uses alternative oxygen-based bleaching agents, making it safer for septic systems and the environment.
Effects on the Septic System
While chlorine bleach can disrupt the bacteria balance and harm the overall health of your septic system, chlorine-free bleach is a safer option. Chlorine-free bleach does not contain chlorine or harsh chemicals, making it a more septic-friendly choice. It can effectively clean and disinfect surfaces without causing damage to your septic system.
Guidelines for Using Bleach in a Septic System
If you still choose to use bleach in your septic system, it is important to do so responsibly. Follow these guidelines to minimize the impact on your septic system:
Using Bleach Sparingly
Use bleach sparingly and only when necessary. Consider alternative cleaning products for routine cleaning tasks to minimize the amount of bleach entering your septic system.
Diluting Bleach
When using bleach, dilute it with water to reduce its concentration. This can help minimize its impact on the bacteria balance in your septic system.
Proper Drainage
Ensure that your septic system is adequately designed and functioning correctly. Proper drainage and regular maintenance can help mitigate the potential damage caused by bleach and other cleaning products.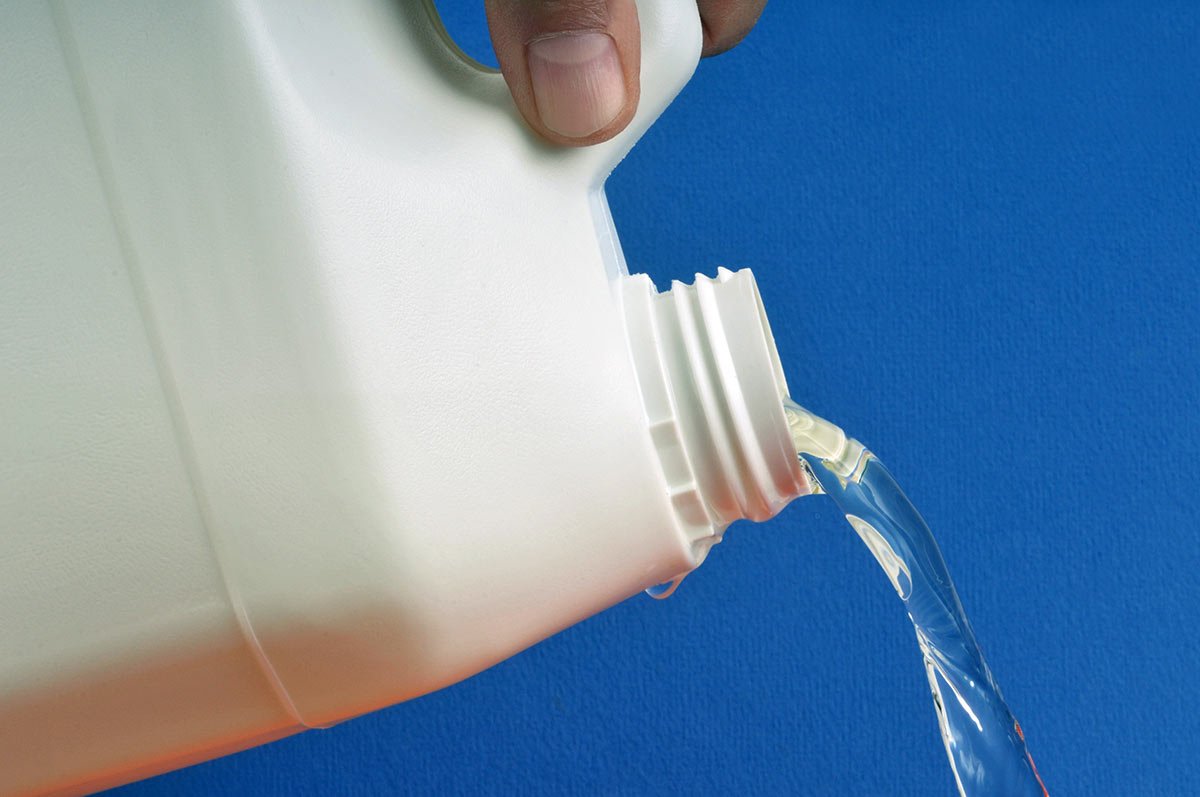 This image is property of ecocare.com.au.
Potential Damage to Septic Tank Components
Using bleach in your septic system can have damaging effects on various components. Here are some potential issues that can arise:
Corrosion of Metal Pipes
Bleach contains corrosive chemicals that can damage metal pipes over time. Continuous use of bleach can lead to corrosion, leaks, and ultimately, system failure.
Deterioration of Seals and Gaskets
The chemicals in bleach can deteriorate the seals and gaskets in your septic system. This can result in leaks and ineffective operation of the system.
Effect on Concrete Structures
Bleach, especially when used in high concentrations, can cause concrete structures such as septic tanks or drain fields to deteriorate and crack. This can compromise the integrity of the system and lead to costly repairs or replacements.
Proper Disposal of Cleaning Products
When it comes to disposing of cleaning products, including bleach, it is important to follow proper guidelines to protect the environment and avoid potential harm. Here are some tips for safe disposal:
Safe Handling of Chemicals
When using bleach or any other cleaning product, ensure proper ventilation, wear protective gloves, and avoid contact with your eyes and skin. Follow the instructions on the product label for safe handling and storage.
Disposing of Unwanted Substances
Never dispose of cleaning products down the drains or toilets. Instead, check with your local waste management authority for proper hazardous waste disposal sites in your area. Many communities offer programs for safe disposal of cleaning products and other chemicals.
Environmental Impact of Improper Disposal
Improper disposal of cleaning products can have a detrimental impact on the environment. Chemicals from cleaning products can contaminate water sources, harm aquatic life, and contribute to pollution. By following proper disposal guidelines, you can help protect the environment and prevent potential damage to ecosystems.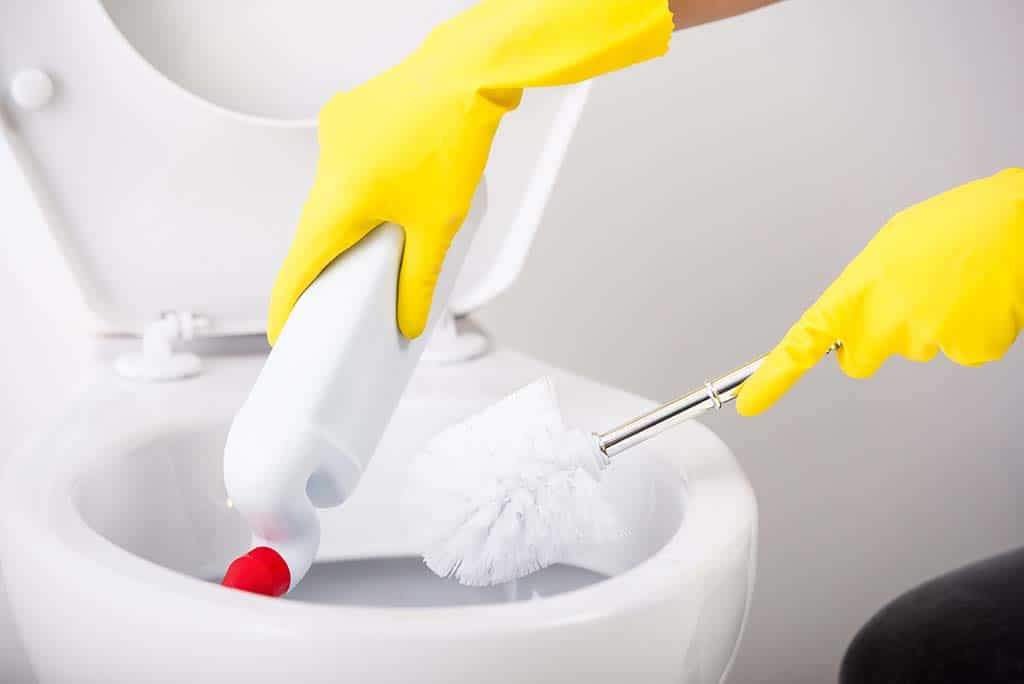 This image is property of www.muck-munchers.co.uk.
Signs of Septic System Problems
It is important to be aware of signs that indicate potential problems with your septic system. If you notice any of the following signs, it may be time to seek professional advice and address the issues:
Unpleasant Odors
Foul odors coming from your drains or outdoor septic tank area can indicate a problem with your septic system. It may be a sign of clogs or backups that require immediate attention.
Slow Drains or Backups
If your drains are slow to empty or if you experience frequent backups, it could be a sign of a clog or a malfunctioning septic system. Professional inspection is recommended to diagnose and resolve the issue.
Lush Green Grass Over the Tank
While it may seem counterintuitive, an unusually healthy and vibrant patch of grass over your septic tank area can indicate an issue. It may suggest that your septic system is leaking, allowing excess nutrients to reach the surface and promote the growth of vegetation.
Professional Advice and Consultation
When it comes to septic system maintenance, seeking advice from experts is crucial. Consider the following options to ensure the proper care and longevity of your septic system:
Seeking Advice from Experts
Consulting with septic system professionals or local health departments can provide valuable insights and guidance. They can assess the condition of your septic system, offer maintenance tips, and recommend suitable cleaning products that are safe for your specific setup.
Septic System Inspections
Regular inspections of your septic system can help identify potential issues before they become major problems. Professionals can assess the condition of your system, identify leaks or malfunctioning components, and provide recommendations for repairs or replacements if necessary.
Choosing Septic-Safe Cleaning Products
When selecting cleaning products, look for those that are specifically labeled as safe for septic systems. These products are specifically formulated not to harm the beneficial bacteria in your septic system and are designed to be environmentally friendly.
In conclusion, while using bleach in your septic system is not recommended due to its potential negative effects on the bacteria balance, the environment, and your health, there are alternatives available. By choosing eco-friendly cleaning products and following proper maintenance guidelines, you can ensure the optimal performance and longevity of your septic system while keeping your home clean and safe.