Maintaining a septic system when you have a garbage disposal can be a bit tricky, but fear not, because we've got you covered! In this article, we'll explore some practical tips and expert advice on how to keep your septic system functioning smoothly while still enjoying the convenience of a garbage disposal. From proper waste management to regular maintenance routines, you'll learn all the ins and outs of maintaining a septic system with a garbage disposal. So roll up your sleeves, and let's dive into the world of septic system maintenance together!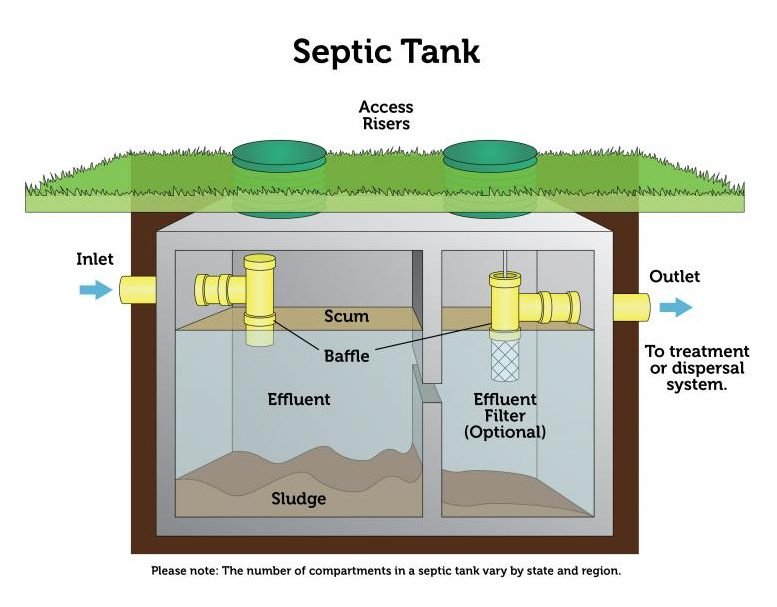 This image is property of yourcleanwater.org.
Regular Inspections
Frequency of Inspections
To properly maintain your septic system, it is essential to schedule regular inspections. These inspections should be performed by a professional every three to five years, depending on the size of your household and the usage of the system. Regular inspections allow the professional to assess the overall condition of your septic system, identify any potential issues, and ensure that it is functioning efficiently.
Contacting a Professional
When it comes to septic system inspections, it is highly recommended to contact a professional. These individuals have the expertise and knowledge to thoroughly evaluate your system and provide appropriate recommendations or repairs if necessary. Additionally, they can offer guidance on proper maintenance practices and answer any questions you may have regarding your septic system.
Inspection Checklist
During a septic system inspection, there are several key components that a professional will examine. These include the septic tank, drainfield, distribution box, pipes, and other relevant parts. The inspector will check for signs of leakage, excessive sludge accumulation, clogs, and any potential structural damage. They may also measure the levels of solids and scum in the septic tank and assess the overall condition of the drainfield. A comprehensive inspection checklist ensures that all critical aspects of the septic system are carefully evaluated.
Proper Waste Disposal
Avoiding Certain Food Waste
To maintain a healthy septic system, it is important to be mindful of the types of food waste you dispose of down the drain. Grease, oil, coffee grounds, and fibrous materials such as fruit peels or vegetable scraps should be avoided. These substances can accumulate in your septic tank and potentially clog the system, leading to costly repairs. Instead, consider composting these food waste items or disposing of them in the regular garbage.
Using a Strainer
One simple way to prevent larger food particles from entering your septic system is by using a strainer on your kitchen sink drain. This small device catches solid remnants, such as bits of food and debris, before they flow into the pipes and septic tank. Regularly emptying the strainer and cleaning it will ensure its effectiveness in preventing potential blockages.
Scraping Plates and Utensils
Before rinsing your dishes, it is advisable to scrape off any excess food particles into a compost bin or trash can. By removing the majority of food waste before it enters the drain, you reduce the strain on your septic system. This simple practice can significantly contribute to the prevention of clogs and the overall health of your septic system.
Limiting Use of Garbage Disposal
Although a garbage disposal can be a convenient kitchen appliance, it is important to limit its use when you have a septic system. Excessive use of the garbage disposal can introduce additional solid waste and strain the system's capacity to break down organic matter effectively. Try to dispose of food waste through alternative methods, such as composting or using a regular trash bin, to minimize the potential impact on your septic system.
This image is property of www.timfrankseptic.com.
Monitoring Water Usage
Conserving Water
Conserving water not only benefits the environment but also helps maintain a healthy septic system. Reduce unnecessary water consumption by fixing leaky faucets or toilets promptly. Additionally, consider implementing water-saving practices such as taking shorter showers, avoiding running the tap unnecessarily, and using efficient appliances (e.g., low-flow toilets, washing machines). The less water you use, the less strain you put on your septic system.
Fixing Leaks
Water leaks can be detrimental to your septic system, so it is crucial to address them promptly. Detecting and fixing leaks in your plumbing system prevents the unnecessary flow of water into your septic tank. Regularly inspect your pipes, faucets, and toilets for any signs of leakage, such as dripping or pooling water. Timely repairs not only save water but also help maintain the integrity and functionality of your septic system.
Using Water Efficiently
Being mindful of your water usage habits can contribute to the longevity of your septic system. Instead of running the dishwasher or washing machine with partial loads, wait until you have a full load to maximize water efficiency. Additionally, consider spreading out your water usage throughout the day to avoid overwhelming your septic system with excessive water flow at once. Small changes in your daily habits can make a significant difference in preserving the health of your septic system.
Maintaining a Healthy Drainfield
Avoiding Parking or Heavy Objects
One essential aspect of maintaining a septic system is to avoid parking vehicles or placing heavy objects over the drainfield area. The drainfield is responsible for filtering and dispersing the treated wastewater into the surrounding soil. Excessive pressure from vehicles or heavy objects can compact the soil, disrupt the drainage process, and potentially damage the drainfield pipes. By ensuring that the drainfield area remains clear and free from any obstructions, you contribute to the overall health and effectiveness of your septic system.
Planting the Right Vegetation
When landscaping around your septic system, it is important to choose the right vegetation. Avoid planting trees or shrubs with invasive roots that may infiltrate the drainfield and compromise its functionality. Instead, opt for shallow-rooted plants or grasses that promote moisture absorption and prevent soil erosion. Proper choice and placement of vegetation minimize the risk of damage to your septic system, ensuring its longevity.
Maintaining Drainfield Pipes
Regular maintenance of your drainfield pipes is crucial for the proper functioning of your septic system. Inspect the area around the pipes for any signs of erosion, standing water, or foul odors. Ensure that the pipes and their connections are intact and free from any blockages or damage. If any issues are detected, it is advisable to contact a professional septic system service provider for prompt repairs or maintenance.
This image is property of www.premiertechaqua.com.
Understanding the Septic System
Knowing the Components
To effectively maintain your septic system, it is important to have a basic understanding of its components. The main components of a septic system include the septic tank, drainfield, distribution box, and pipes. The septic tank is responsible for separating solid waste from liquid waste, allowing for bacterial breakdown. The treated wastewater flows into the drainfield, where it is further treated in the soil. The distribution box ensures an even distribution of wastewater to the drainfield pipes. Familiarize yourself with these components to better understand how your septic system operates.
Understanding the Function
The primary function of a septic system is to treat and dispose of wastewater from your household. When wastewater enters the septic tank, solid waste settles to the bottom and forms a layer of sludge. Bacteria in the tank help break down organic matter, converting it into liquid and gas. The liquid portion, known as effluent, exits the tank and flows into the drainfield, where further treatment occurs. The drainfield allows the effluent to percolate through the soil, where natural processes remove harmful substances and bacteria. Understanding the purpose of each component helps you appreciate the vital role your septic system plays in maintaining a clean and healthy environment.
Awareness of Warning Signs
Being aware of potential warning signs can help you address septic system issues before they worsen. Pay attention to any foul odors emanating from your drains or near the septic tank. Slow drains, gurgling sounds, or backups are also red flags that indicate potential problems. Wet areas or pooling water around the drainfield or septic tank are signs of system failure. If you notice any of these warning signs, it is crucial to contact a professional to assess and resolve the issue promptly.
Proper Use of Garbage Disposal
Avoiding Non-Biodegradable Waste
When using a garbage disposal with a septic system, it is important to be mindful of the waste you dispose of. Avoid putting non-biodegradable items such as plastic, metal, or glass down the disposal. These materials do not break down easily and can cause clogs or damage to your septic system. Instead, dispose of non-biodegradable waste in your regular trash or recycling bins.
Regular Cleaning and Maintenance
To ensure the longevity and optimal performance of your garbage disposal, regular cleaning and maintenance are necessary. Follow the manufacturer's instructions for cleaning the disposal and use appropriate cleaning solutions. This helps prevent buildup, maintain proper functionality, and minimize the introduction of harmful substances into your septic system. Regular cleaning and maintenance routines are simple yet effective measures in preserving the health of both your garbage disposal and septic system.
This image is property of www.pca.state.mn.us.
Regular Pumping
Pumping Frequency
Regular pumping is an integral part of septic system maintenance. The frequency of pumping depends on various factors, including the size of your septic tank and the number of household members. On average, septic tanks should be pumped every three to five years. However, variables such as increased water usage, excessive solid waste production, or the presence of a garbage disposal may warrant more frequent pumping. Consult with a septic system professional to determine the appropriate pumping frequency for your specific circumstances.
Finding a Reliable Service
To ensure the job is done properly, it is important to find a reliable septic system service provider for the pumping process. Research local companies that specialize in septic system maintenance and have a proven track record. Look for reputable reviews and recommendations from homeowners in your area. A reliable service provider will not only effectively pump your septic tank but also provide guidance on maintenance practices to keep your system running smoothly.
Pumping Process
During the pumping process, a professional septic system service provider will locate and access the septic tank. They will use specialized equipment to remove the accumulated sludge and scum from the tank. This process helps prevent clogs and alleviates the strain on your septic system. Additionally, the service provider may inspect the tank for any signs of damage, check the tank's outlet filters, and ensure the overall functionality of the system. Regular pumping is crucial to maintain the proper function and longevity of your septic system.
Avoiding Chemicals and Harsh Cleaners
Chemical Impact on Bacteria
The bacteria in your septic tank play a vital role in breaking down organic matter and treating wastewater. Harsh chemicals, such as bleach, disinfectants, and strong cleaners, can harm or kill these beneficial bacteria. Avoid using excessive amounts of chemicals or pouring them directly down the drains. Instead, opt for environmentally-friendly alternatives that do not disrupt the delicate balance of bacteria in your septic system.
Environmentally-Friendly Cleaning Alternatives
There are numerous environmentally-friendly cleaning alternatives that can effectively clean your home without harming your septic system. Baking soda, vinegar, and lemon juice are natural cleaning agents that can tackle various household cleaning tasks. These alternatives are gentle on your septic system and do not introduce harmful chemicals into the wastewater. By opting for eco-friendly cleaning solutions, you reduce the risk of septic system damage and promote a healthier environment.
Proper Septic-Safe Products
When purchasing cleaning or personal hygiene products, look for labels indicating that they are septic-safe or biodegradable. These products are specifically formulated to minimize the impact on septic systems. By using septic-safe products, you contribute to the overall health of your septic system and protect the environment from potentially harmful substances. Prioritize the use of these products to ensure a long-lasting and efficient septic system.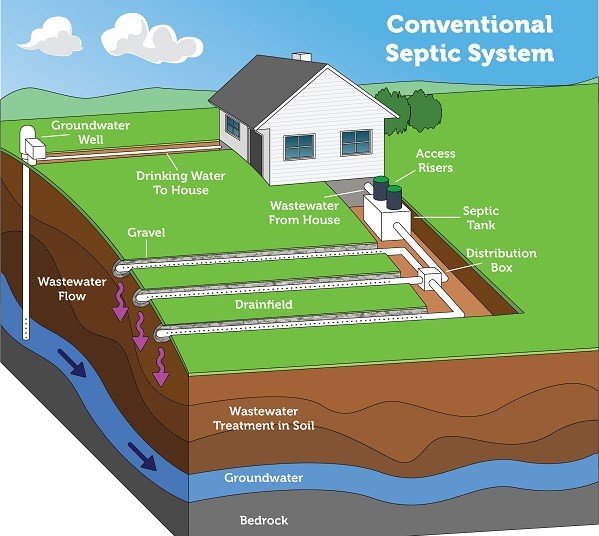 This image is property of nwdistrict.ifas.ufl.edu.
Preventing Clogs
Avoiding Oil and Grease Disposal
Disposing of excessive oil, grease, or fats down your drains increases the risk of clogs in your septic system. These materials solidify as they cool, forming blockages that impede the flow of wastewater. Instead of pouring oil or grease down the drain, collect them in a container and dispose of them in the regular garbage. Implementing this small change in your routine can significantly reduce the occurrence of clogs in your septic system.
Regular Septic Cleaners
Using septic-safe cleaning products designed specifically for septic systems can help prevent clogs. These cleaners promote the breakdown of organic matter in your septic tank, reducing the likelihood of clogs forming. Regularly add septic cleaners to your system following the product's instructions to maintain a healthy and clog-free septic system.
Septic Additives and Enzymes
Septic additives and enzymes are specifically formulated to enhance the performance of your septic system. These products introduce beneficial bacteria that aid in the breakdown of organic waste and reduce the accumulation of solids in the tank. By using septic additives or enzymes according to the manufacturer's instructions, you enhance the overall efficiency of your septic system and minimize the risk of clogs.
Educating Household Members
Informing about Proper Usage
Educating all household members about proper septic system usage is crucial in maintaining its longevity and functionality. Teach everyone in your home about the do's and don'ts of septic systems. Emphasize the importance of avoiding excessive water usage, proper waste disposal, and the potential consequences of introducing harmful substances into the system. By creating awareness, you ensure that everyone in your household contributes to the proper maintenance and care of your septic system.
Teaching Children about Septic Systems
Teaching children about septic systems can be an educational and fun experience. Explain to them how the septic system works and why it is important to treat it with care. Encourage them to adopt good habits, such as scraping plates and avoiding excessive water usage. By involving children in the education process, you instill responsible habits at a young age and promote a sense of ownership in the maintenance of your septic system.
In conclusion, maintaining a septic system with a garbage disposal requires regular inspections, proper waste disposal practices, monitoring water usage, keeping the drainfield healthy, understanding the septic system, using the garbage disposal correctly, regular pumping, avoiding harsh chemicals and clogs, and educating household members. By following these guidelines and practicing regular maintenance, you can ensure the efficiency, longevity, and proper functioning of your septic system while minimizing the risk of costly repairs and system failures. Remember, a well-maintained septic system is essential for a healthy and clean living environment.