Imagine living in a world without a proper system for waste disposal and treatment. It seems unimaginable, doesn't it? That's where the humble septic tank comes into play. Serving as a vital component of countless households, septic tanks are underground waste management systems that provide effective treatment and safe disposal of sewage. Acting as a mini sewage treatment plant right in your own backyard, these tanks play a crucial role in maintaining a clean and healthy environment for you and your community. Let's delve into the purpose of a septic tank and understand why it's an essential part of modern sanitation practices.
This image is property of uploads-ssl.webflow.com.
Overview of Septic Tanks
Definition of septic tank
A septic tank is an underground wastewater treatment system that is commonly used in areas where there is no access to a centralized municipal sewage system. It is designed to separate and treat solid waste and wastewater within the tank before releasing the effluent into the soil for further purification.
Components of a septic tank
A typical septic tank consists of two main parts: the tank itself and the drainfield. The tank is usually made of concrete, fiberglass, or plastic and is divided into two compartments. The inlet pipe allows wastewater to enter the tank, while the outlet pipe carries the treated effluent out of the tank and into the drainfield.
How septic tanks work
The purpose of a septic tank is to treat and dispose of household wastewater efficiently and safely. When wastewater enters the tank, it undergoes a process of natural decomposition and separation. Solid waste settles to the bottom of the tank, forming sludge, while lighter materials such as grease and oils float to the top, creating a scum layer. The remaining liquid wastewater, known as effluent, flows out of the tank and into the drainfield where it undergoes further purification in the soil.
Importance of Septic Tanks
Proper waste disposal
One of the primary purposes of a septic tank is to ensure proper waste disposal. By separating solid waste from liquid, septic tanks prevent pollutants from entering the environment and contaminating water sources. This helps to protect the health of both humans and wildlife, as well as maintain the overall cleanliness of the community.
Environmental impact
Septic tanks play a crucial role in safeguarding the environment. When properly maintained and functioning, they help to minimize the release of harmful bacteria, viruses, and nutrients into the soil and surrounding water bodies. This prevents water pollution and contributes to the preservation of ecosystems, including rivers, lakes, and groundwater reservoirs.
Public health concerns
The proper functioning of septic tanks is essential for maintaining public health. When wastewater is not treated effectively, it can contain pathogens that cause diseases such as cholera, hepatitis, and dysentery. By treating and disposing of wastewater safely, septic tanks help to prevent the spread of these harmful microorganisms and protect the health of communities.
This image is property of www.peaksewer.ca.
Installation and Maintenance
Location selection
Selecting the right location for a septic tank is crucial for its efficient operation. Factors such as soil type, groundwater level, and proximity to wells or water bodies should be taken into consideration. It is important to consult local authorities and professionals to ensure compliance with regulations and to prevent contamination of water sources.
Septic tank design and size
The design and size of a septic tank are determined by factors such as the number of household occupants, the daily water usage, and the soil characteristics. It is essential to choose a properly sized tank that can adequately handle the wastewater volume to prevent overloading and system failure.
Installation process
Septic tank installation should be carried out by trained professionals who have a thorough understanding of the system's requirements. The installation process involves excavation, placing the tank into the ground, and connecting the inlet and outlet pipes. It is crucial to adhere to local regulations and guidelines to ensure a safe and effective installation.
Regular maintenance and inspections
To maintain the efficiency and longevity of a septic tank, regular maintenance and inspections are necessary. This includes regular pumping to remove accumulated sludge and solid waste, as well as inspecting the tank and drainfield for any signs of damage or leaks. Additional maintenance may include the use of septic tank additives to enhance bacterial action and prevent clogs.
Signs of Septic Tank Problems
Slow drains and backups
One of the early signs of septic tank problems is the slow drainage of sinks, showers, and toilets. If you notice that the water is not flowing as quickly as it used to, or backups occur more frequently, it may indicate that the tank is reaching its capacity or there is a blockage in the system.
Foul odors
Unpleasant odors around the septic tank or in the drains can be a telltale sign of septic tank issues. These odors may indicate a buildup of gases in the tank or a leak in the system. It is important to address these odors promptly to prevent further damage or health hazards.
Pooling water in the yard
Excessive water pooling in the yard, especially near the location of the septic tank or drainfield, can indicate a problem with the system. This could be a sign of a leak or a blockage that is preventing the effluent from being properly distributed into the soil.
Unusually green grass or vegetation
While it may seem counterintuitive, an unusually vibrant and green patch of grass or vegetation above the septic tank or drainfield can indicate a problem. This can be a sign that the effluent is not being properly absorbed in the soil, causing an overabundance of nutrients that promote excessive plant growth.
This image is property of theoriginalplumber.com.
Preventing Septic Tank Issues
Conserving water
Conserving water is an effective way to prevent septic tank issues. By reducing water usage through practices such as fixing leaks, using water-efficient appliances, and being mindful of excessive water consumption, you can help prevent overloading the septic system and minimize the need for frequent pumping.
Proper waste disposal
To prevent clogs and other septic tank issues, it is important to practice proper waste disposal. Avoid flushing non-biodegradable items, such as wipes, diapers, and feminine hygiene products, down the toilet. Additionally, be mindful of what goes down the sink drain and avoid pouring grease and harmful chemicals into the system.
Regular pumping and cleaning
Regular pumping is an essential part of septic tank maintenance. The frequency of pumping depends on factors such as the tank size and household usage. It is recommended to have the tank pumped every 3 to 5 years to remove accumulated sludge and prevent potential backups and system failure.
Avoiding harsh chemicals
Harsh chemicals, such as bleach, antibacterial soaps, and excessive use of household cleaners, can harm the beneficial bacteria in the septic tank that are responsible for the breakdown of waste. Avoiding or minimizing the use of these chemicals can help maintain a healthy bacterial balance in the tank and prevent system issues.
Dangers of Neglected Septic Tanks
Contamination of groundwater
A neglected or malfunctioning septic tank can contaminate groundwater, which is a vital source of drinking water for many communities. If the tank leaks or the drainfield is improperly functioning, untreated wastewater and pollutants can seep into the groundwater, posing serious health risks and contaminating the water supply.
Spread of disease
Improperly treated wastewater from a neglected septic tank can contain harmful bacteria, viruses, and parasites that can cause diseases if they enter the environment. This can lead to the spread of illnesses among humans and wildlife, impacting public health and the overall ecological balance.
Expensive repairs and replacement
Neglecting the maintenance of a septic tank can result in costly repairs or even the need for a complete system replacement. Regular pumping and inspections are much more affordable than addressing major system failures or replacing the entire system. Investing in proper maintenance can help avoid significant financial burdens in the long run.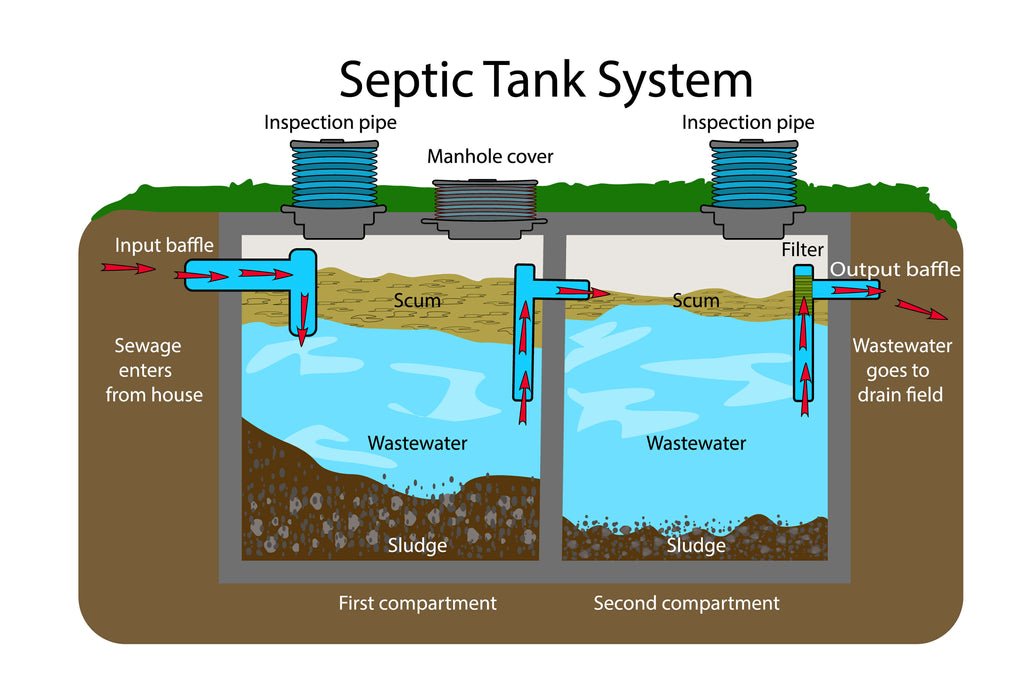 This image is property of cdn.shopify.com.
Septic Tank Regulations
Local regulations and permits
Septic tank installation and maintenance are regulated by local authorities, and permits may be required before installing or making modifications to the system. It is important to familiarize yourself with the specific regulations and obtain the necessary permits to ensure compliance and avoid legal issues.
Inspections and certifications
Periodic inspections and certifications by licensed professionals may be required to ensure the proper functioning of the septic tank system. These inspections help identify any potential issues early on and provide an opportunity to address them before they escalate into major problems.
Penalties and fines for non-compliance
Non-compliance with septic tank regulations can result in penalties and fines. These penalties vary depending on the severity of the violation and the local regulations. It is important to adhere to the regulations and maintain the septic tank system in order to avoid costly penalties and legal consequences.
Alternative Septic Systems
Aerobic treatment units (ATUs)
Aerobic treatment units (ATUs) are alternative septic systems that use oxygen to enhance the natural bacterial processes in the tank. These systems provide higher levels of treatment compared to conventional septic tanks, making them suitable for areas with stricter environmental regulations or challenging soil conditions.
Mound systems
Mound systems are an alternative to traditional drainfields when the soil conditions are not suitable for direct wastewater infiltration. They involve the construction of an elevated mound of sand or gravel where the effluent is distributed and treated through natural filtration and soil processes.
Sand filters
Sand filters are another alternative septic system that uses sand to filter and treat the wastewater. The effluent is distributed over a layer of sand, which acts as a filter, removing impurities and pathogens before the treated water is discharged into the soil.
Constructed wetlands
Constructed wetlands mimic the natural wetland ecosystem to treat wastewater. They involve the use of native wetland plants and soil media to filter and purify the water. Constructed wetlands are effective in removing pollutants, nutrients, and pathogens, making them an environmentally-friendly solution for wastewater treatment.
This image is property of www.desotoks.us.
Conclusion
Septic tanks serve an essential purpose in proper waste disposal, protecting the environment, and maintaining public health. By understanding their components, functions, and maintenance requirements, you can ensure the efficient operation of your septic tank system. Regular maintenance, adherence to regulations, and implementing preventive measures will help prevent issues, protect water sources, and avoid costly repairs. Considering alternative septic systems may also be beneficial in specific situations. Overall, responsible ownership and maintenance of a septic tank contribute to a cleaner and healthier environment for everyone.