Septic tank problems can be a hassle to deal with, but understanding their causes is key to preventing future issues. From excessive water usage and improper maintenance to the presence of non-biodegradable materials, various factors contribute to septic tank problems. This article will provide you with valuable insights into the common causes of septic tank issues, equipping you with the knowledge to avoid costly repairs and inconveniences in the future.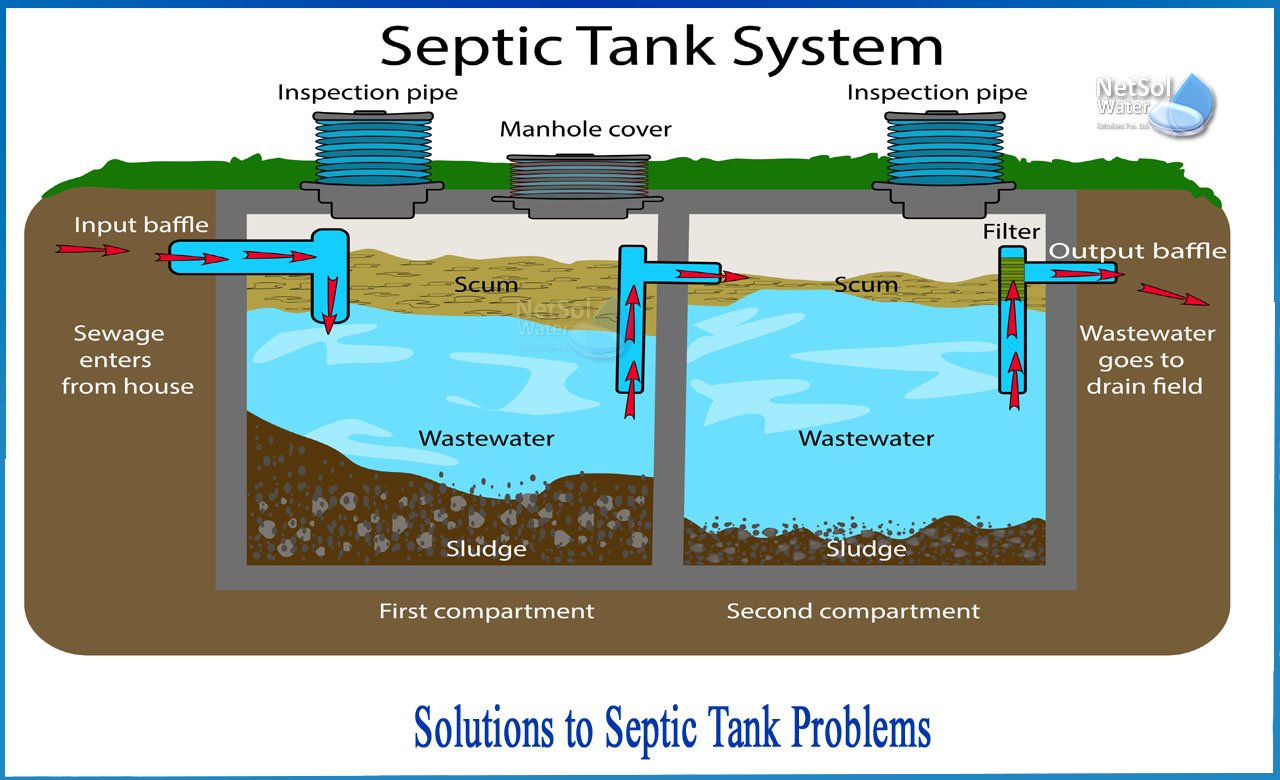 This image is property of www.netsolwater.com.
Lack of Regular Maintenance
One of the main reasons for septic tank problems is a lack of regular maintenance. As a homeowner with a septic system, it is essential to understand that regular maintenance is the key to avoiding costly repairs and potential health hazards. Neglecting to have your septic tank pumped and inspected every few years can lead to a buildup of solid waste and sludge. This buildup can clog the system and cause it to malfunction, resulting in backups, odors, and even sewage flooding in your yard or basement.
To prevent these issues, it is crucial to hire a professional septic tank service to pump and inspect your tank regularly. They will remove the accumulated sludge and ensure that your system is working properly. Additionally, they can identify any potential problems early on and address them before they escalate into more significant issues.
Excessive Water Usage
Another common cause of septic tank problems is excessive water usage. Your septic system is designed to handle a certain volume of wastewater to ensure proper functioning. When you use water excessively, such as running multiple appliances simultaneously or having long showers, you can overwhelm the system. This overload can lead to backups, slow drains, and sewage backups inside your home.
To avoid this issue, it is essential to practice water conservation in your household. Consider installing low-flow fixtures, such as showerheads and faucets, and avoid excessive water usage by spreading out chores that require a lot of water, like laundry and dishwashing. By being mindful of your water usage, you can help your septic system function optimally and avoid unnecessary problems.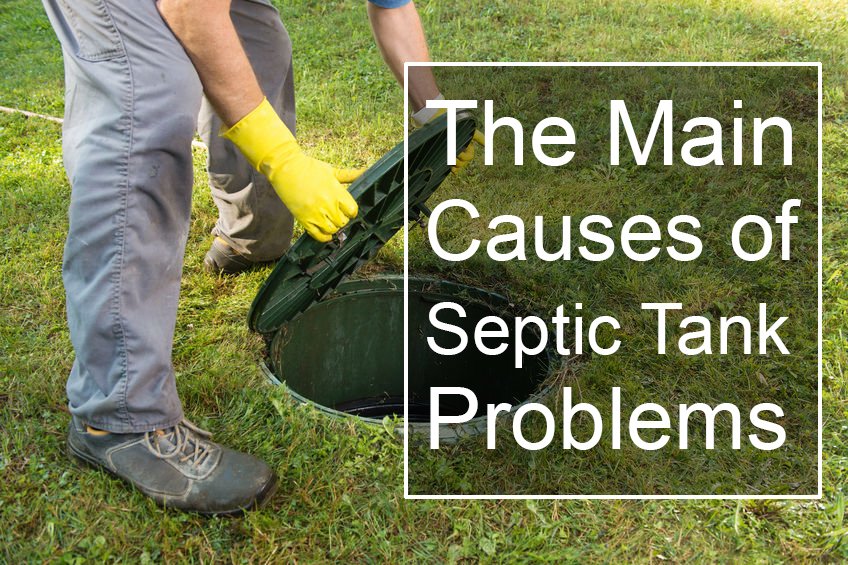 This image is property of microbialogic.com.
Improper Waste Disposal
Improper waste disposal is another frequent cause of septic tank problems. Flushing items down the toilet or pouring substances down the drain that do not belong in the septic system can lead to clogs, backups, and damage to the overall system. Common items that should never be flushed or poured down the drain include diapers, feminine hygiene products, paper towels, cooking oil, and harsh chemicals.
To avoid these issues, it is crucial to educate everyone in your household about proper waste disposal practices. Install clearly labeled garbage bins in each bathroom to encourage the disposal of items in the appropriate receptacle. Additionally, avoid pouring oils and chemicals down the drain and dispose of them through alternative methods, such as recycling centers or hazardous waste facilities.
Grease and Fat Buildup
Grease and fat buildup is a significant problem in septic systems, especially in households that regularly cook with oil and grease. When these substances are poured down the drain, they can solidify and accumulate inside the pipes and septic tank. Over time, this buildup can cause clogs and prevent the proper flow of wastewater through the system.
To prevent grease and fat buildup, it is important to avoid pouring oil and grease down the drain. Instead, allow them to cool and solidify, then scrape them into a heat-resistant container and dispose of them in the regular trash. You can also use grease traps in your kitchen sink to capture excess grease before it enters the septic system. By practicing proper grease and fat disposal, you can keep your septic system functioning smoothly.
This image is property of i.ytimg.com.
Flushing Non-Biodegradable Items
Flushing non-biodegradable items down the toilet is a significant cause of septic tank problems. Items such as wet wipes, dental floss, cotton balls, and cigarette butts do not break down easily in the septic system. Instead, they can accumulate and form clogs in the pipes and tank, leading to backups and system malfunctions.
To avoid this issue, it is crucial to only flush toilet paper and human waste down the toilet. Educate everyone in your household about the importance of proper flushing practices and provide waste bins in each bathroom for the disposal of non-biodegradable items. By being mindful of what gets flushed down the toilet, you can prevent unnecessary septic tank problems.
Tree Root Intrusion
Tree root intrusion occurs when the roots of nearby trees grow into the septic system and damage the pipes and tank. This is more common in older septic systems or systems that were installed near large trees. As the tree roots penetrate the pipes, they can cause blockages, leaks, and possible system failures.
To prevent tree root intrusion, it is important to assess the location of your septic system before planting trees. Avoid planting trees with aggressive root systems near the system, as their roots are more likely to infiltrate the pipes. If you already have trees near your septic system, regularly inspect and maintain the area to ensure that roots do not pose a threat to the system. If you notice any signs of root intrusion, such as slow drains or foul odors, contact a professional to assess and address the issue.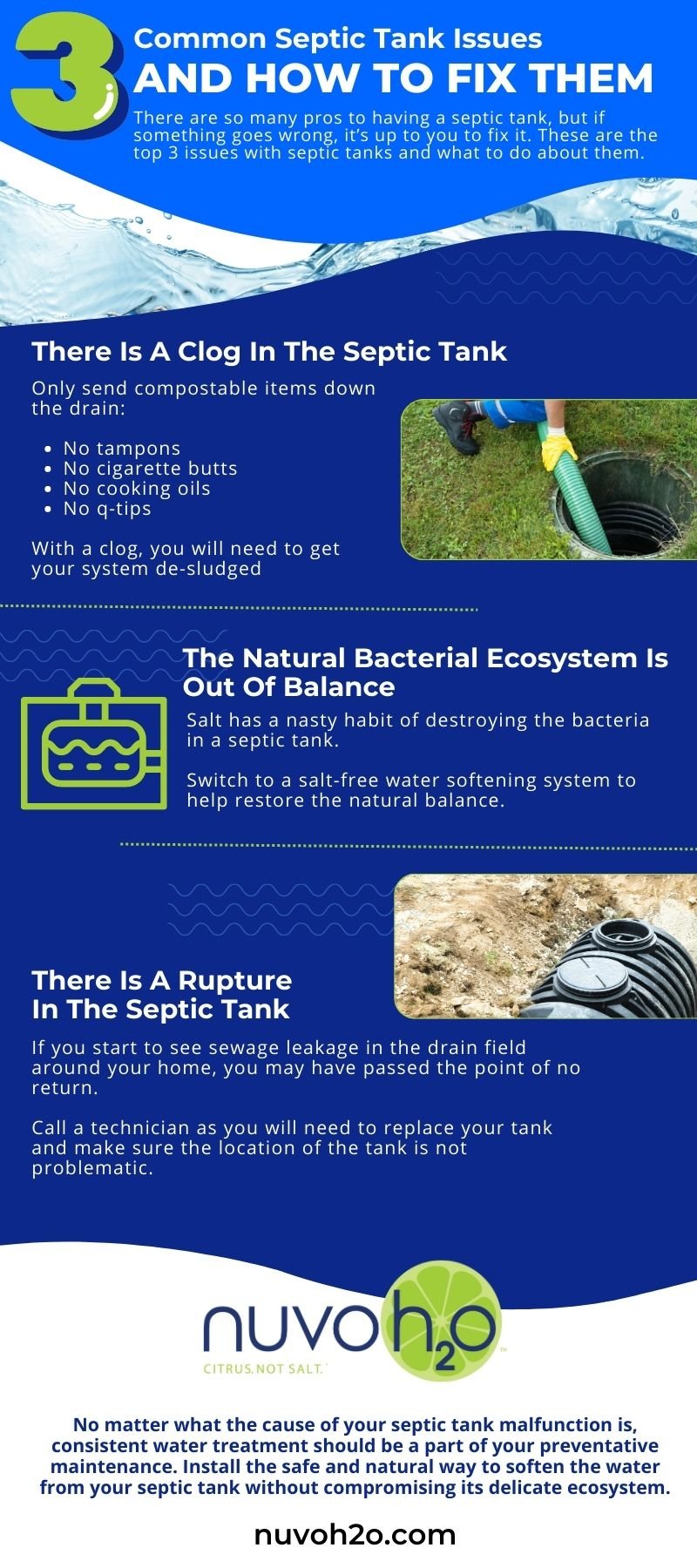 This image is property of nuvoh2o.com.
Soil Saturation
Soil saturation can occur when the soil surrounding the septic system becomes overly saturated with water. This can happen due to heavy rainfall, improper drainage, or a high water table. When the soil is saturated, it cannot absorb the wastewater properly, resulting in backups and potential damage to the system.
To prevent soil saturation, it is essential to ensure that your septic system is installed in an area with proper drainage and good soil composition. If you live in an area prone to heavy rainfall, consider redirecting the water away from the septic system through appropriate grading or installing a drainage system. Regularly inspect the area around your septic system to check for signs of soil saturation, such as standing water or overly moist soil. If you notice any issues, contact a professional to assess and address the problem.
Damaged or Inadequate Drainfield
The drainfield is a crucial component of a septic system that helps filter and treat wastewater before it enters the soil. Damaged or inadequate drainfields can lead to system failures and costly repairs. Damage can occur due to heavy vehicles driving over the drainfield, soil compaction, or the planting of deep-rooted plants near the area.
To prevent damage to the drainfield, it is important to avoid driving heavy vehicles or equipment over the area. Additionally, be mindful of the plants you choose to plant near the drainfield and avoid deep-rooted species. Regularly inspect the drainfield for signs of damage, such as standing water or odors, and contact a professional if you suspect any issues. Proper maintenance and care of the drainfield can ensure the longevity and efficiency of your septic system.
This image is property of www.delvalseptics.com.
Improper Installation
Improper installation of a septic system can be a significant cause of problems in the long run. If the system is not installed correctly, it may not function as intended, leading to backups, leaks, and overall poor performance. Common installation errors include inadequate sizing of the system for the household's needs, improper placement, and inadequate soil preparation.
To avoid problems caused by improper installation, it is crucial to hire a licensed and experienced professional to install your septic system. They will ensure that the system is correctly sized for your household, placed in an appropriate location, and installed following all local regulations and guidelines. Investing in professional installation can save you from costly repairs and potential headaches in the future.
Septic System Overload
Finally, septic system overload can occur when the system is subjected to excessive stress due to a sudden increase in usage or an event that generates a significant amount of wastewater. This overload can overwhelm the system, leading to backups, slow drains, and potential system failures.
To avoid septic system overload, it is vital to be mindful of your water usage during events such as large gatherings or house parties. If you anticipate a significant increase in wastewater production, consider renting portable restrooms or informing your guests about water conservation practices. By managing your water usage during times of increased demand, you can prevent overloading your septic system.
In conclusion, septic tank problems can be caused by various factors, ranging from a lack of regular maintenance to improper installation and usage practices. By understanding these potential issues and taking the necessary precautions, you can ensure the proper functioning and longevity of your septic system. Remember to schedule regular maintenance, practice water conservation, dispose of waste properly, and be mindful of what goes down the drain. By being proactive and careful, you can avoid costly repairs and keep your septic system running smoothly for years to come.