If you own a septic tank, you know how important it is to keep it well-maintained. Septic tank problems can lead to costly repairs and a messy situation. In this article, you will learn simple yet effective strategies to prevent septic tank issues. By following these guidelines, you can ensure the longevity and proper functioning of your septic system while avoiding any unpleasant surprises along the way. So, let's dive in and discover how to keep your septic tank in tip-top shape!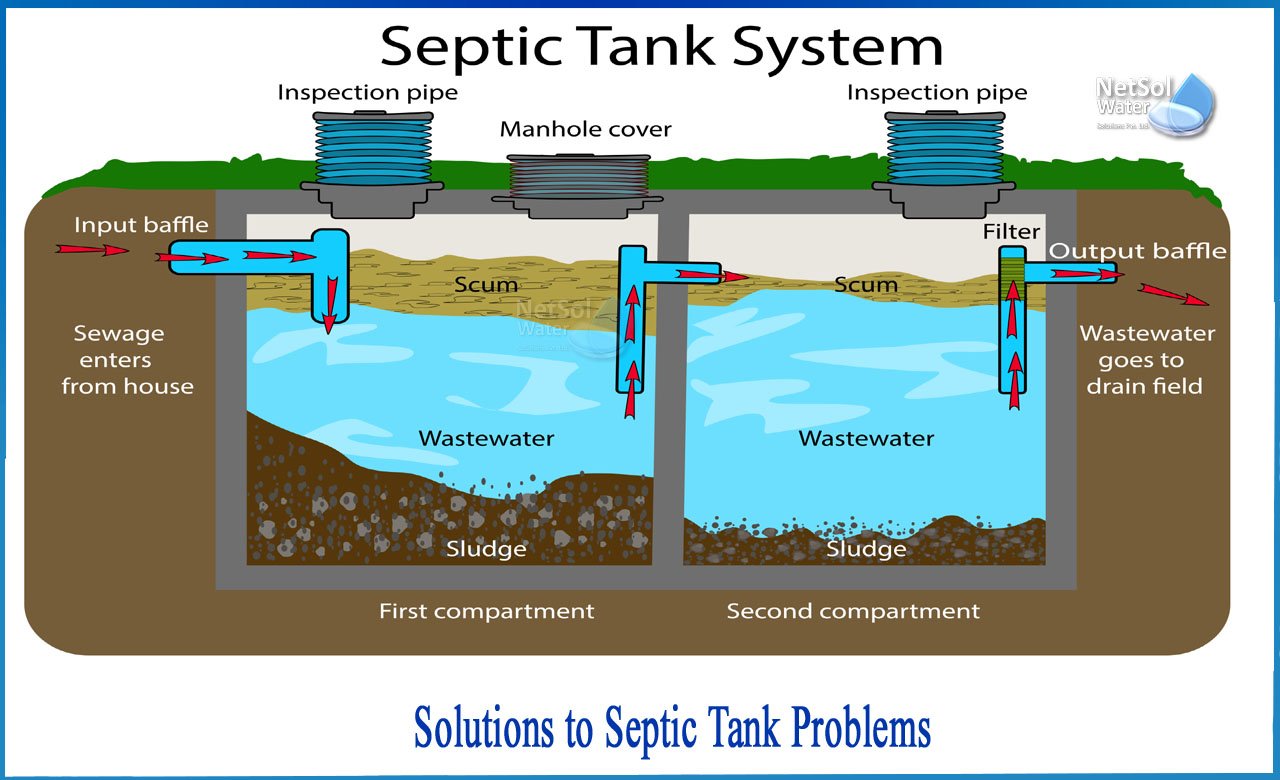 This image is property of www.netsolwater.com.
1. Regular Maintenance
Regular maintenance is crucial for keeping your septic tank in good working condition and preventing potential problems. By following these simple steps, you can ensure that your septic system functions efficiently for years to come.
1.1 Pumping the Tank
Pumping your septic tank is an essential part of regular maintenance. Over time, solid waste builds up in the tank, and if not removed, it can lead to clogs and backups. It is recommended to have your septic tank pumped every 3 to 5 years, depending on its size and the number of people in your household.
1.2 Inspecting the Tank
Regular inspections allow you to identify potential issues before they become major problems. Inspect the tank's exterior for any signs of damage, such as cracks or leaks. Additionally, check the inlet and outlet pipes for blockages. It is also a good idea to inspect the tank's interior every few years to ensure that the sludge and scum layers are not too high.
1.3 Monitoring Water Usage
Monitoring your water usage can help prevent overloading the septic system. Excessive water usage can put a strain on the tank and cause it to fill up faster than it can properly treat the waste. Be mindful of your water consumption and make an effort to conserve water whenever possible. Fix any leaking faucets or pipes promptly to avoid unnecessary water waste.
2. Proper Waste Disposal
Proper waste disposal practices are essential to preventing septic tank problems. Avoiding flushing non-dissolvable items and using septic-friendly cleaning products can go a long way in maintaining the health of your septic system.
2.1 Avoid Flushing Non-Dissolvable Items
Toilet paper and human waste are the only items that should be flushed down the toilet. Flushing non-dissolvable items such as dental floss, feminine hygiene products, wipes, and paper towels can lead to clogs in the pipes and cause damage to your septic system. Dispose of these items in the trash to prevent potential problems.
2.2 Use Septic-Friendly Cleaning Products
Using septic-friendly cleaning products can help maintain the balance of bacteria in your septic tank. Harsh chemicals found in many household cleaners can kill the beneficial bacteria that break down waste in the tank. Choose cleaning products that are labeled as septic-safe or opt for natural alternatives such as vinegar and baking soda. Avoid pouring grease or oil down the drain, as they can solidify and cause blockages.
2.3 Dispose of Chemicals Properly
Chemicals such as paints, solvents, pesticides, and medications should never be disposed of down the drain or toilet. These substances can harm the bacteria in your septic tank and contaminate the groundwater. Dispose of these chemicals at designated collection centers or follow the instructions on the label for proper disposal methods.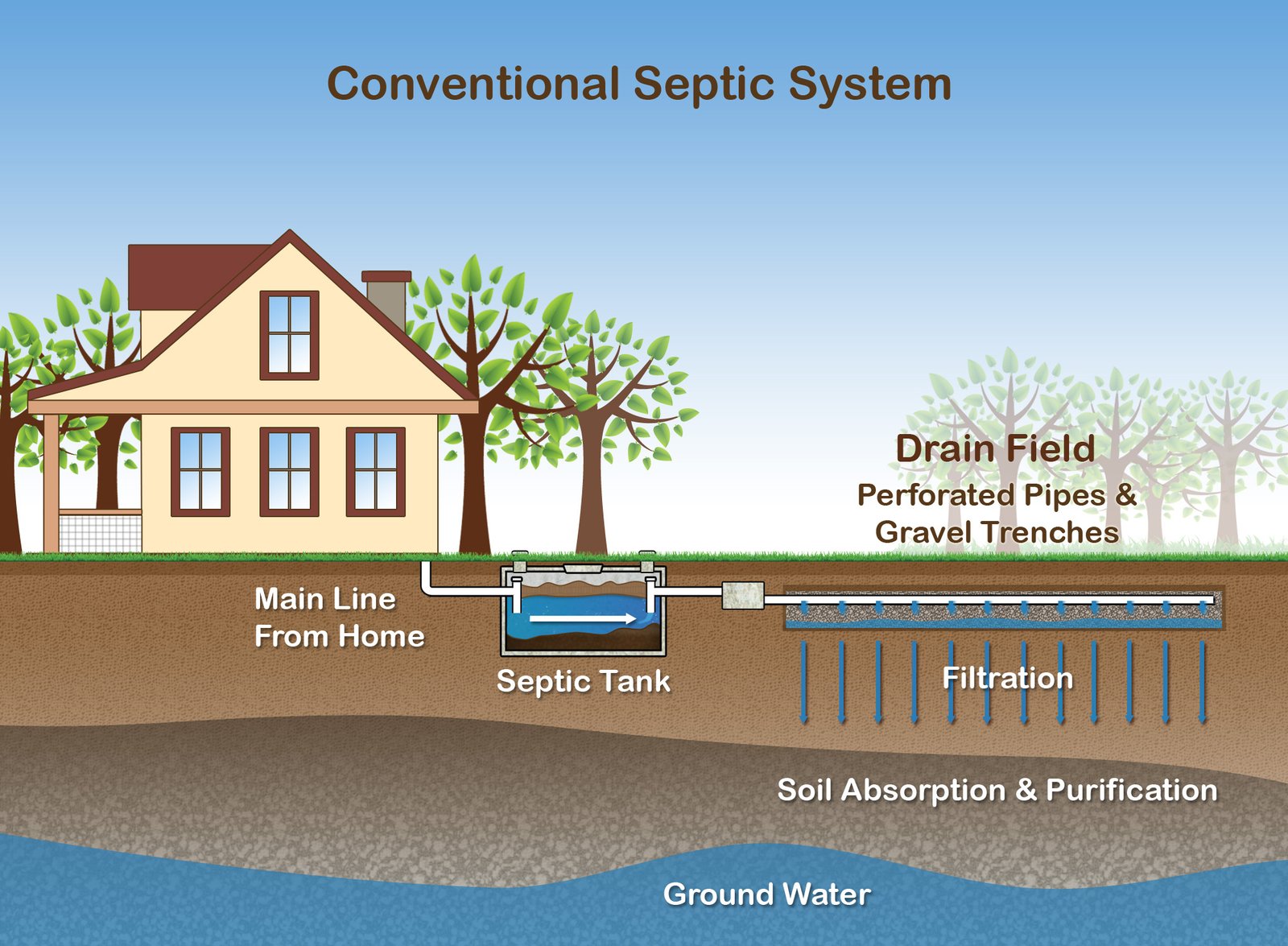 This image is property of www.pca.state.mn.us.
3. Avoid Overloading the System
Preventing overloading the septic system is essential for its proper functioning and longevity. By spreading out water usage, limiting garbage disposal usage, and spacing out laundry and dishwashing activities, you can prevent unnecessary strain on your septic system.
3.1 Spread out Water Use
Avoid excessive water usage in a short period of time, as it can overwhelm the septic system and hinder its ability to treat the waste. Spread out activities such as showering, washing dishes, and doing laundry throughout the day to give the septic tank enough time to process the water and waste.
3.2 Limit Garbage Disposal Usage
Garbage disposals can put a significant strain on septic systems. While convenient, disposing of food waste through the garbage disposal adds extra solids to the septic tank that can lead to clogs and reduce its efficiency. Opt for composting or proper disposal of food waste instead.
3.3 Space out Laundry and Dishwashing
Doing excessive laundry or running the dishwasher back-to-back can overload the septic system with a large volume of water and waste in a short period of time. Space out these activities throughout the week to prevent overwhelming the septic system and ensure proper treatment of the wastewater.
4. Protect the Drain Field
The drain field is a critical component of your septic system that helps treat the wastewater before it enters the surrounding soil. Protecting the drain field is essential to prevent contamination and maintain the system's overall effectiveness.
4.1 Avoid Parking or Building on the Drain Field
The drain field should be kept free from any heavy objects, including vehicles or structures. The weight and pressure from these objects can compact the soil, disrupt the flow of wastewater, and potentially damage the pipes. Limit any activities that could put stress on the drain field to ensure its long-term functionality.
4.2 Direct Water Away from the Drain Field
Diverting water away from the drain field is essential to prevent oversaturation and the pooling of water around the area. Make sure that downspouts, gutters, and other drainage systems direct water away from the drain field. This will help maintain its ability to absorb and treat wastewater adequately.
4.3 Avoid Planting Trees or Shrubs Near the Drain Field
The roots of trees and shrubs can infiltrate the drain field pipes, causing blockages and interfering with the system's ability to function properly. Avoid planting trees or shrubs with extensive root systems near the drain field. If you have existing trees near the drain field, regularly inspect and trim the roots to prevent any potential damage.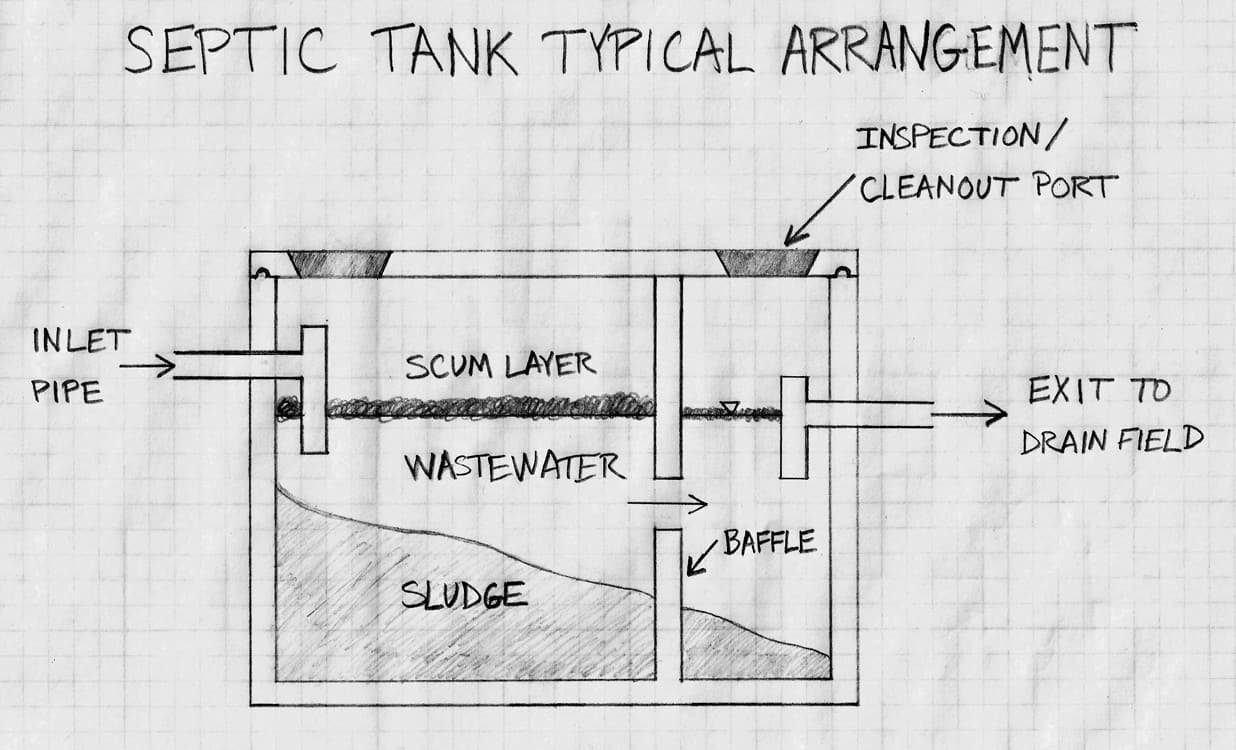 This image is property of fletchersplumbing.net.
5. Regularly Test the Soil
Testing the soil surrounding your septic system is crucial for assessing its ability to absorb and treat the wastewater effectively. Conducting soil percolation tests, adjusting water usage based on soil results, and hiring professionals for soil testing are all important steps in maintaining your septic system.
5.1 Conduct Soil Percolation Tests
Soil percolation tests measure how quickly water is absorbed by the soil. These tests help determine if your soil is suitable for proper septic system function. Conducting percolation tests periodically can alert you to any potential issues with the soil's absorption capacity and allow you to make necessary adjustments.
5.2 Adjust Water Usage Based on Soil Results
Based on the results of the soil percolation tests, you may need to adjust your water usage to ensure that the system is not overloaded. If the soil is not absorbing water efficiently, reducing water usage during peak times or implementing conservation measures can help prevent backups and other problems in your septic system.
5.3 Hire Professionals for Soil Testing
Soil testing is best conducted by professionals with expertise in septic systems. They can obtain accurate results and provide recommendations based on the specific characteristics of your soil. Regular soil testing helps you stay proactive in maintaining your septic system and prevent costly repairs down the line.
6. Fix Plumbing Leaks
Addressing plumbing leaks promptly is essential for preventing septic tank problems. Leaking faucets and pipes can cause an excess of water to enter the septic system, overloading it and potentially leading to backups or failures.
6.1 Address Leaking Faucets and Pipes
Leaking faucets not only waste water but also contribute to an increased load on your septic system. Check all faucets in your home regularly for any signs of leaks and repair them promptly. Similarly, inspect your pipes for any leaks or water stains and have them fixed to prevent any further damage to your septic system.
6.2 Inspect Toilet for Leakage
Toilets can be a common source of leaks that often go unnoticed. A leaking toilet can waste a significant amount of water and put an additional burden on your septic system. Conduct a simple dye test by placing a few drops of food coloring into the toilet tank. If the color appears in the bowl without flushing, you have a leak that needs to be addressed.
6.3 Repair or Replace Faulty Plumbing
If you discover any faulty plumbing components, such as cracked pipes or malfunctioning valves, it's important to repair or replace them promptly. Faulty plumbing can lead to water leaks that can overwhelm your septic system and cause it to malfunction. Contact a professional plumber to assess and fix any plumbing issues to avoid potential problems with your septic system.
This image is property of www.balkandraincleaning.com.
7. Educate Household Members
Educating all household members about proper disposal practices, water conservation, and guidelines for septic tank use is essential to prevent septic tank problems. By ensuring that everyone is aware of the best practices, you can collectively contribute to the health and longevity of your system.
7.1 Teach Proper Disposal Practices
Inform household members about the importance of proper waste disposal and the potential consequences of flushing non-dissolvable items down the toilet. Teach them to dispose of waste in appropriate containers or trash cans to prevent clogs and backups in the septic system. Additionally, provide clear instructions on how to use and maintain the garbage disposal properly.
7.2 Inform about Water Conservation
Make everyone in your household aware of the importance of water conservation and how it directly impacts the septic system. Encourage shorter showers, turning off the tap while brushing teeth or washing dishes, and using water-efficient appliances. Small changes in daily habits can significantly reduce the strain on your septic system and help prevent problems.
7.3 Provide Guidelines for Septic Tank Use
Share guidelines on septic tank use with household members to ensure they understand how to properly operate and maintain the system. Include information on what can and cannot be flushed down the toilet, the importance of regular maintenance, and how to recognize signs of potential problems. By educating everyone in your household, you can prevent avoidable issues and extend the life of your septic system.
8. Keep Records
Maintaining detailed records of maintenance and pumping schedules, water usage, and soil test results is vital for effective septic system management. These records provide valuable information and help you stay on top of necessary tasks and any potential issues that may arise.
8.1 Document Maintenance and Pumping Schedule
Keep a record of all maintenance activities and septic tank pumpings. Note down the dates of each service, along with any observations or recommendations provided by the professionals. This log will help you stay organized and ensure that you don't miss any necessary maintenance tasks or pumpings in the future.
8.2 Keep Track of Water Usage
Monitoring your household's water usage can provide valuable insights into your septic system's health and efficiency. Keep records of monthly water bills or consider installing a water meter to track the amount of water consumed. This data will help you identify any sudden spikes in water usage and pinpoint any potential issues with the septic system.
8.3 Record Soil Test Results
When conducting soil percolation tests or hiring professionals for soil testing, make sure to keep a record of the results. Note down any recommendations provided by the experts regarding water usage or necessary adjustments to the system. These records will enable you to track changes in the soil over time and inform future decisions related to the septic system.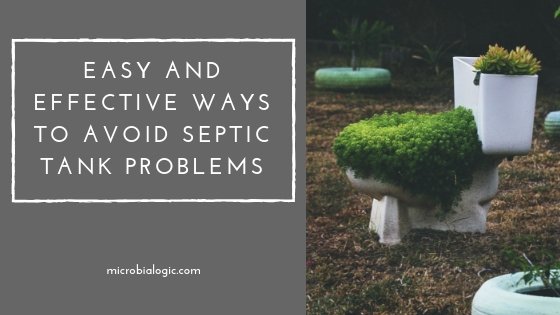 This image is property of microbialogic.com.
9. Monitor Groundwater Level
Monitoring the groundwater level is essential for identifying potential problems with your septic system and taking necessary steps to address them. By installing a groundwater monitoring system, checking for signs of an elevated water table, and seeking professional assistance when needed, you can protect your septic system from damage.
9.1 Install a Groundwater Monitoring System
Consider installing a groundwater monitoring system to keep a close eye on the water levels in your area. These systems can provide early warnings of high groundwater levels, which can be indicative of a failing or overloaded septic system. Regularly review the data collected by the monitoring system and take appropriate action if any concerning trends are observed.
9.2 Check for Signs of Elevated Water Table
Keep an eye out for signs of an elevated water table on your property. These signs may include persistent wet areas, surface water pooling, or septic tank backups. An elevated water table can indicate that your septic system is not functioning properly and may be at risk of failure. If you notice any of these signs, it is important to address the issue promptly.
9.3 Seek Professional Assistance for High Water Table
If you suspect a high water table or experience persistent septic system problems, it is crucial to seek professional assistance. A septic system professional can assess the situation, determine the cause of the problem, and provide appropriate solutions. They may recommend options such as raising the drain field or installing a specialized septic system designed for high water table areas.
10. Be Mindful of Landscaping
Proper landscaping practices can help protect your septic system and prevent potential problems. By avoiding heavy machinery on the lawn, preventing soil erosion, and directing stormwater runoff away from the septic tank, you can maintain the integrity of your system.
10.1 Avoid Heavy Machinery on the Lawn
Heavy machinery, such as construction equipment or vehicles, can cause soil compaction and damage the underground components of your septic system. Avoid driving or parking heavy machinery on the lawn where the system is located. Be mindful of any digging or excavation projects near the septic tank or drain field and take precautions to prevent accidental damage.
10.2 Prevent Soil Erosion
Soil erosion can compromise the proper functioning of your septic system. Excessive erosion can expose pipes, disrupt drainage patterns, and cause damage to the drain field. Implement erosion control measures such as installing gutters and downspouts, using erosion control blankets or landscaping fabric, and planting vegetation to stabilize the soil.
10.3 Direct Stormwater Runoff Away from Septic Tank
Redirecting stormwater runoff away from your septic tank and drain field is crucial for its proper functioning. Ensure that the grading of your property directs water away from the septic system. Consider installing French drains or building swales to channel stormwater away from the tank and avoid overloaded or saturated soil conditions.
By following these preventative measures and adopting responsible practices, you can minimize the risk of septic tank problems and maintain the efficiency and longevity of your septic system. Regular maintenance, proper waste disposal, and mindful habits will ensure that your septic system functions optimally and protects both your property and the environment.