If you're facing septic tank problems, don't fret! This article will guide you through the process of fixing them and getting your septic system back in working order. From identifying common issues to implementing necessary repairs, we've got you covered. So roll up your sleeves and let's tackle those septic tank problems together!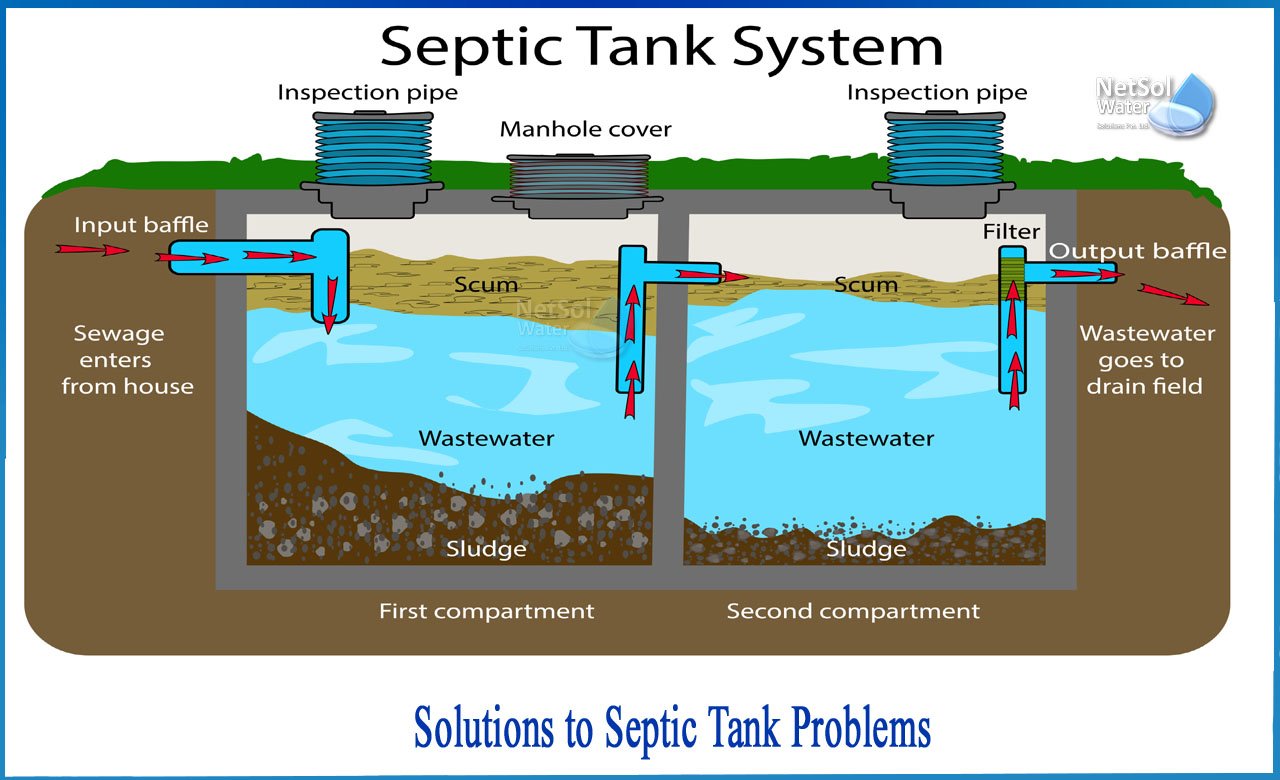 This image is property of www.netsolwater.com.
1. Signs of Septic Tank Problems
When it comes to maintaining a healthy septic system, it's crucial to be aware of the signs that indicate potential problems. By recognizing these signs early on, you can take the necessary steps to address the issues and prevent further damage to your septic tank. Here are some common signs to watch out for:
1.1. Slow Drains
One of the first signs that you may have a septic tank problem is slow drains in your sinks, showers, or toilets. If you notice that the water is taking longer than usual to drain, it could indicate a clog in the pipes or a full septic tank. Ignoring this issue could lead to sewage backups or even a complete system failure.
1.2. Gurgling Sounds
Another sign of a septic tank problem is gurgling sounds coming from your drains, especially when you flush the toilet or use the sink. These noises are often caused by air escaping from the pipes due to a blockage or excessive pressure within the system. If you hear unusual sounds, it's essential to address the issue promptly.
1.3. Foul Odors
Foul odors emanating from your drains, yard, or around the septic tank itself can be a clear indicator of a septic system problem. These odors are usually caused by the buildup of sewage and can indicate leaks, cracks, or a full septic tank. It's crucial not to ignore these smells, as they can pose health hazards and worsen over time.
1.4. Wet Areas in Yard
If you notice wet or soggy areas in your yard, especially near the septic tank or drain field, it could be a sign of a septic system issue. These wet areas indicate the presence of wastewater that has not properly absorbed into the soil. It's important to address this problem promptly to prevent further damage to your septic system and potential contamination of groundwater.
1.5. Sewage Backup
One of the most concerning signs of a septic tank problem is sewage backup. If you experience sewage coming back up into your sinks, toilets, or showers, it's a clear indication that your septic system is not functioning correctly. Sewage backups are not only unsanitary but can also cause significant damage to your property. Immediate action is crucial in such cases to minimize the impact.
1.6. High Nitrate Levels in Well Water
High nitrate levels in your well water can also be a symptom of septic tank problems. When a septic system is not functioning properly, it may release excessive levels of nitrogen into the surrounding soil and groundwater. This nitrogen can then contaminate well water, posing potential health risks. Regular testing of well water is essential to ensure its safety for consumption.
2. DIY Septic Tank Solutions
While some septic tank problems may require professional intervention, there are several steps you can take on your own to mitigate issues and maintain a healthy septic system. Here are some DIY solutions that can help:
2.1. Regular Pumping and Maintenance
Regular pumping of your septic tank is one of the most crucial maintenance tasks you can do to prevent problems. Over time, solids accumulate in the tank, reducing its capacity and increasing the likelihood of clogs and backups. By scheduling regular pumping every few years, you can ensure that your septic tank remains in optimal condition.
2.2. Limit Water Usage
Excessive water usage can overload your septic system and lead to problems such as clogs and backups. To prevent this, it's essential to be mindful of your water usage habits. Avoid running multiple appliances that require water simultaneously, such as the dishwasher and washing machine. Additionally, fixing any leaks or drips can help reduce water consumption and alleviate stress on your septic system.
2.3. Keep Chemicals out of the System
Certain household chemicals, such as harsh cleaners, solvents, and pesticides, can disrupt the natural balance of bacteria in your septic tank. These chemicals can kill off the beneficial bacteria responsible for breaking down solids. To maintain a healthy septic system, it's best to avoid flushing or pouring these substances down the drain. Opt for environmentally-friendly alternatives whenever possible.
2.4. Proper Waste Disposal
Proper waste disposal is essential for the optimal functioning of your septic system. Only flush human waste and toilet paper down the toilet, avoiding the disposal of items such as diapers, feminine hygiene products, or paper towels. These non-biodegradable items can clog the system and lead to costly repairs. It's also important to avoid pouring grease or oil down the drain, as they can solidify and obstruct the pipes.
2.5. Inspect and Repair Plumbing Leaks
Leaky plumbing fixtures can contribute to septic system problems by introducing excess water that the system cannot handle. Regularly inspecting your plumbing for leaks and promptly repairing them can help maintain a healthy septic system. Pay special attention to toilets, faucets, and showerheads, as these are common sources of leaks.
2.6. Use Bacterial Additives
Bacterial additives can help promote the natural breakdown of solids in your septic tank. These additives introduce beneficial bacteria into the system, aiding in the decomposition process. However, it's essential to choose additives specifically designed for septic systems and follow the instructions carefully. Using too much or the wrong type of additive can do more harm than good.
This image is property of plumbingperspective.com.
3. Calling a Professional
While DIY solutions can be effective for routine maintenance, some septic tank problems require the expertise of a professional. It's important to recognize when it's time to call in a qualified technician to address more complex issues. Here are some instances when professional intervention is necessary:
3.1. Septic Tank Inspection
Regular septic tank inspections are crucial for identifying potential issues early on and ensuring the overall health of the system. A professional inspection involves checking for leaks, cracks, and other signs of damage, as well as assessing the level of solids in the tank. Regular inspections can help prevent major problems and extend the lifespan of your septic system.
3.2. Pumping and Cleaning
While regular pumping is a task that can be done as a DIY solution, it can also be performed by a professional septic service. They have the necessary equipment and expertise to safely and efficiently pump and clean your septic tank. If you prefer to leave this task to the professionals, scheduling regular pumping appointments with a trusted service provider is essential.
3.3. Repairing or Replacing Damaged Components
If your septic system has damaged components such as pipes, tanks, or pumps, it's best to call a professional for repair or replacement. Attempting to fix these issues yourself without the proper knowledge and tools can lead to further damage or ineffective repairs. Professionals will assess the extent of the problem and provide the appropriate solutions to ensure the system functions optimally.
3.4. Installing a New Drain Field
In some cases, when the drain field becomes damaged or saturated, a new drain field installation may be necessary. This is a complex process that requires expertise and specialized equipment. Professional technicians will assess the site, design a new drain field layout, and ensure the installation meets local regulations and permits. Proper installation is crucial for the long-term functionality of your septic system.
3.5. Utilizing Advanced Technologies
In recent years, advanced technologies have emerged to enhance septic system performance and troubleshooting. Professional septic service providers are equipped with tools such as video cameras for pipe inspections, electronic monitoring systems, and hydraulic jetting equipment. These technologies allow for accurate diagnosis of issues and targeted solutions, helping to address problems more effectively and efficiently.
4. Common Septic Tank Problems and Their Solutions
Understanding the common problems that can occur with septic tanks is essential for prompt resolution and prevention. Here are some common issues and their corresponding solutions:
4.1. Clogs in Pipes and Drain Field
Clogs in the pipes and drain field can occur due to the buildup of solids, non-biodegradable materials, or tree roots intrusion. To address this problem, professional technicians can use specialized tools such as hydro-jetting to clear the clogs and restore proper flow. Regular pumping and maintenance schedules can also help prevent the occurrence of clogs.
4.2. Leaks and Cracks in Tank or Pipes
Leaks or cracks in the septic tank or pipes can result from age, ground settling, or damage caused by external factors. For minor leaks, professional technicians can repair them using appropriate sealants or by replacing damaged components. However, in cases of extensive damage, it may be necessary to replace the entire tank or section of pipes.
4.3. Tree Roots Intrusion
Tree roots intrusion into the septic system is a common problem, especially in older homes with mature trees nearby. These roots can infiltrate the pipes and cause clogs or structural damage. Professional technicians can remove the invading roots and implement preventative measures, such as root barriers, to prevent future intrusions.
4.4. Septic Tank Flooding
Septic tank flooding can occur due to heavy rainfall, groundwater infiltration, or a malfunctioning pump. This can lead to backups, odors, and potential health hazards. Professionals can assess the cause of the flooding and take appropriate measures to alleviate the issue, such as repairing or replacing the pump, implementing drainage solutions, or installing a backup system.
4.5. Old or Damaged Drain Field
Over time, drain fields can become damaged or saturated, leading to poor absorption of wastewater. This can result in slow drains, soggy areas in the yard, foul odors, and even sewage backups. Depending on the extent of the damage, professional technicians can either repair or replace the drain field to restore proper functionality.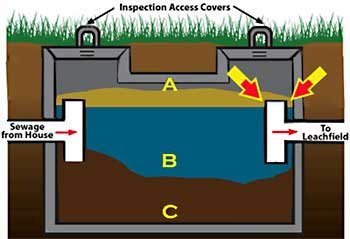 This image is property of www.boyetts.com.
5. Maintaining a Healthy Septic System
Maintaining a healthy septic system requires regular care and attention. By following these practices, you can ensure the longevity and optimal performance of your septic tank:
5.1. Regular Inspections and Maintenance
Regular inspections and maintenance are crucial for identifying potential problems early on and preventing major issues. Schedule professional inspections every few years or as recommended by your septic service provider. Adhering to a regular pumping and cleaning schedule is also essential to prevent tank overflows and prolong the lifespan of your septic system.
5.2. Proper Waste Disposal Practices
Proper waste disposal practices are vital for preventing clogs and backups in your septic system. Only flush human waste and toilet paper down the toilet, and avoid disposing of non-biodegradable items, grease, or oil down the drain. Educating household members about these practices can help ensure everyone understands the importance of responsible waste disposal.
5.3. Septic Tank Pumping Schedule
Establishing a septic tank pumping schedule is crucial for maintaining a healthy system. The frequency of pumping depends on various factors, including the size of the tank, the number of occupants in your home, and water usage habits. Consult with a professional septic service provider to determine the ideal pumping schedule for your specific circumstances.
5.4. Water Conservation
Conserving water not only helps the environment but also reduces the strain on your septic system. Implement water conservation practices such as fixing leaks promptly, using water-efficient appliances, and being mindful of water usage. By reducing water consumption, you can prevent excessive strain on your septic system and minimize the risk of backups or overflows.
5.5. Educating Household Members
Proper education and awareness of septic system maintenance among household members are paramount. Educate everyone on the dos and don'ts of septic system care, including proper waste disposal, water conservation, and signs of potential problems. Encourage them to report any issues or abnormalities observed to ensure timely action can be taken.
6. Preventing Future Septic Tank Problems
Prevention is key when it comes to septic tank problems. By implementing the following preventive measures, you can reduce the likelihood of future issues and costly repairs:
6.1. Avoid Flushing Harmful Substances
To protect your septic system, avoid flushing harmful substances down the drain. This includes chemicals, medications, cigarette butts, and other non-biodegradable items. These substances can disrupt the balance of bacteria in the system and contribute to clogs or damages. Dispose of these items in the appropriate manner to prevent septic tank problems.
6.2. Be Mindful of Landscaping
When planning your landscaping, it's important to be mindful of the location of your septic system components. Avoid planting trees or shrubs with extensive root systems near the septic tank or drain field. The roots can infiltrate the system and cause damage or clogs. Consult with a professional landscaper or septic service provider for guidance on suitable plantings.
6.3. Keep Heavy Machinery off the Drain Field
Driving or parking heavy machinery or vehicles on your drain field can cause compaction of the soil and damage the pipes, leading to system malfunctions. It's important to educate household members, visitors, and contractors about the importance of avoiding heavy machinery or vehicles in the drain field area.
6.4. Install a Filter for the Outlet
Installing a filter at the septic tank outlet can help prevent solids from entering the drain field and clogging the pipes. These filters are designed to capture solid particles while allowing liquid to flow freely. Regular maintenance and cleaning of the filter are necessary to ensure its effectiveness.
6.5. Regularly Inspect the Tank and Pipes
Performing regular visual inspections of your septic tank and pipes can help identify any potential issues before they become major problems. Look for signs of leaks, cracks, or overflowing sewage. If you notice any abnormalities or suspect a problem, contact a professional septic service provider for further assessment and assistance.
This image is property of microbialogic.com.
7. Importance of Timely Action
Taking timely action when it comes to septic tank problems is essential for several reasons:
7.1. Avoiding Health Hazards
Septic tank issues can pose health hazards to you, your family, and the environment. Sewage backups, foul odors, and contaminated groundwater can all lead to the transmission of diseases and the spread of harmful bacteria. By addressing septic tank problems promptly, you can minimize the risk of exposure to these health hazards.
7.2. Preventing Costly Repairs
Ignoring septic tank problems can lead to more extensive damage and costly repairs. For example, a small clog, if left unaddressed, can progress into a complete pipe blockage or even a tank failure. By taking timely action, you can address problems when they are still manageable and prevent the need for more extensive and expensive repairs down the line.
7.3. Protecting the Environment
A malfunctioning septic system can have a negative impact on the environment. Wastewater contamination can pollute groundwater, rivers, or lakes, harming aquatic life and affecting ecosystems. By promptly resolving septic tank problems, you can help protect the environment and preserve the natural balance of these ecosystems.
8. Conclusion
Maintaining a healthy septic system requires a combination of awareness, regular maintenance, and prompt action. By recognizing the signs of septic tank problems, implementing DIY solutions when appropriate, and calling in professionals when necessary, you can ensure the optimal performance and longevity of your septic system. Remember to follow preventive measures, educate household members, and take timely action to protect your health, prevent costly repairs, and preserve the environment. With proper care and attention, your septic tank will continue to provide effective wastewater treatment for years to come.
This image is property of lirp.cdn-website.com.